New Book about 200-year History of Russian-US Ambassadors
AMBASSADORS: U.S.-to-Russia / Russia-to-U.S.

New book by Arizona State University (ASU) Russian-language scholars Lee B, Croft, Ashleigh Albrecht, Emily Cluff and Eric Resmer (Capstone Publications, Phoenix Arizona USA, 2010, 264 pages). Available in two formats — bound book (color $65, B&W $30) and digital (PDF $7.50) with different covers.

The book is a summary index of all U.S. and Russian ambassadors, over 200 years, 1809 to 2010. These are the ambassadors partly responsible for Russia and the United States never having gone to war against each other.

This is a first of its kind, interactive historical biographical reference book and e-book. The 264 pages contain about 240 links to much more information on the Internet which extends the reference to thousands of pages.

The book was inspired by a Russia web site of American ambassadors in Russia and the USSR. The similar American list online at Wikipedia.com is critiqued and improved upon. The book improves on both lists adding more background information. For someone who needs information on Russian-US ambassadors, this reference fills a gap between the Internet and the library.

Notes explain Dates and Transliteration. Russia changed calendars March 1918 from the Julian (old style) to Gregorian (new style) used in the West. The two calenders are 12-14 days apart depending on period. For clarity both calendar styles are noted for dates before March 1918. Several transliteration standards are in use for converting the Russian alphabet to the English alphabet, the standard used is explained.

102 ambassadors are listed (64 American, 38 Russian) with a few serving several terms, but only 31 photos are shown. Comparative statistics show that Russian leaders held office for much longer terms than the Americans. During these 200 years the US had 41 presidents while Russia had 15 leaders. On average the US ambassador served for 3.2 years compared to 5.3 years in Russia, 40% longer. All ambassadors listed are men.

The contents are divided into the three major eras of Russian political organization — Tsarist Russia, Soviet Union, and Russian Federation — with the Americans listed first. A 15-year gap in continuity of US Ambassadors occurred after the Russian Revolution in 1918.


Period

Dates



U.S.
Russian
Number

Pages
Number

Pages

Tsarist Russia

1809 - 1918
1 - 42
23 - 46
1- 19
95 - 142

Soviet Union

1933 - 1992

43 - 61

47 - 78

20 - 35

143 - 233

Russian Federation

1993 - 2010

62 - 66
78 - 89
36 - 39

241 - 260


The first and sixth US ambassadors to Russia later became the sixth and fifteenth US presidents — Adams and Buchanan.



Limitations



The Contents don't show dates of service for each ambassador, nor are the sections consistently in displaying the dates to quickly find an ambassor by date.

There are no bookmark links within the document. It would be useful to link from the Contents to each section listed.

Links in PDF won't work if line-wrapped, broken by a line-break. Link mending and editing is needed to add the part that is missing when a link on 2 lines is clicked. Though the fickleness of the Internet often prevents a link from working, one can quickly find substantial background data in the book.

Since much of this reference depends on the published Internet links working, a web site is recommended for this book which is regularly updated as links change and new information appears online.



Authors



Each contributor has a two-page biography and photo in the front but this group photo is at the end.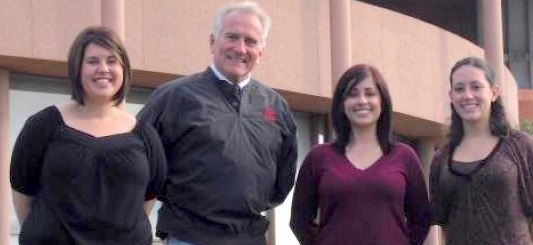 Group photo cropped: (L-R) Emily Cluff, Lee B. Croft, Erica Resmer, and Ashleigh Albrecht.



ASU Russian Language students finish their degree with a "Capstone" course, RUS-498, an "applied project" to pair students with senior professors on a project of value and interest to them. This is the forth Capstone book produced under the supervision of Dr. Croft since 2007.



AMBASSADORS: U.S.-to-Russia / Russia-to-U.S.

(ISBN 978-0-557-26469-8) 2010.
is available most rapidly and economically from the printer:
More books at Lulu.com by Dr. Croft and his ASU students:
See Dr. Croft's summaries of his 6 books

For more information contact Lee.Croft@ASU.edu


Lee B. Croft, Ph.D.

Senior Professor of Russian

Former Head, Faculty of German, Romanian, and Slavic (GRS)

School of International Letters and Cultures (SILC)

ASU, Tempe, AZ 85287-0202
---