New book

—
Russian in Arizona: A History of Its Teaching

1600 names, 57 graphics, and index
RUSSIAN IN ARIZONA: A History of Its Teaching

.


by Lee B. Croft, professor of Russian and coordinator of Slavic Languages and Literatures, Arizona State University and 4 graduate students, 2007. See Dr. Croft's ASU Biography.

This is a new paperback book, a publication of the Institute for Issues in the History of Science (IIHS, Tempe, AZ/Perm, Russia, 2007), that attempts to describe the efforts of EVERYONE who has EVER taught Russian ANYWHERE in the State of Arizona, as well as the interesting subsequent fates of hundreds of their Arizona students of Russian.

In the past six decades, Arizona's dedicated teachers of Russian have taught, mentored, and greatly potentiated three generations of students who have had a large positive impact on state, national, and international spheres of events. Arizona's teachers of Russian are, as shown in this unprecedented treatment, heroes of human potentiation, working despite institutional underfinancing and underprioritization to boost upward into high responsibility and critical decision-making thousands of the state's most talented and diligent young people.



Arizona Russian-language faculty and career graduates are profiled.



Four Arizona State University students: BARRY BOOSMAN, KATHERINE LUTZ, JAMES C. NIELSEN, and AIMEE M. RAYMER, seniors graduating 2007 with B.A. degrees in Russian, join in a "capstone experience" with their senior professor, LEE B. CROFT, to interview and profile many of the leading figures in this previously unheralded effort — Profs. Joe

Malik

, Jr., Sanford C.

Couch

, Rolfs

Ekmanis

, Dora

Burton

, Danko

Šipka

, Delbert D.

Phillips

, George

Gutsche

, John

Garrard

, Grace

Fielder

, Alexander

Dunkel

, Teresa

Polowy

, John

Leafgren

, Anne

Slobodchikoff

, Joyce

Story

, Willeford

Dirk

, Pat

Barrett

, Nick

Vontsolos

, Adele

Barker

, Alexander

Dunkel

, Grace

Fielder

, and Roza

Simkhovich

, Rolfs

Ekmanis

, and others. Also students awarded Fulbright and NSEP grants, and our entire membership in

Dobro Slovo

— The Slavic National Honor Society.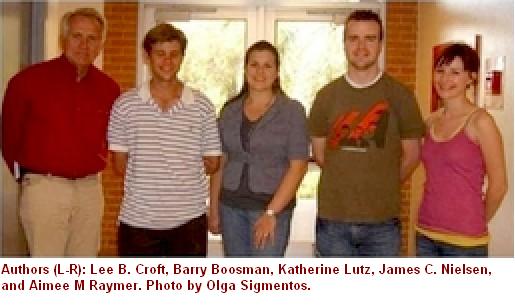 Russian-potentiated students include key diplomats and intelligence analysts, disarmament monitors, military officers, international businesspeople, leading academics, prominent attorneys, journalists and broadcasters, physicians, dentists, pharmacists, actors and entertainers, professional athletes and sportsmen, and, especially, TEACHERS of RUSSIAN.

If you have ever taken Russian in the State of Arizona, chances are you will find something of interest … perhaps yourself.

More than 1600 Arizona teachers and students of Russian are mentioned within

. The book is comprised of 260 pages, including 57 photographs, illustrations, news articles, charts, graphs, and an index.



RUSSIAN IN ARIZONA: A History of Its Teaching

(ISBN 978-1-4303-2355-6) 2007.
is available most rapidly and economically from the printer:
More books at Lulu.com by Dr. Croft and his ASU students:
See Dr. Croft's summaries of his 6 books

For more information contact Lee.Croft@ASU.EDU:


Lee B. Croft, Ph.D.

Senior Professor of Russian

Head, Faculty of German, Romanian, and Slavic (GRS)

School of International Letters and Cultures (SILC)

ASU, Tempe, AZ 85287-0202
---