You don't have to be Jewish to be familiar with the ancestral fare brought to this country by Eastern European immigrants a hundred years ago. Like other assimilated dishes — lasagna, chow mein, tacos — bagels, lox and pastrami on rye are now as American as apple pie.

But an unlikely recent wave of Jewish immigration — from Central Asia of all places — is putting a new spin on the cuisine. Goodbye, pot roast, chopped liver and stuffed cabbage. Hello,

samsa

,

manty

and

lula kebab

.

The newcomers are Jews from Uzbekistan, called Bukharin. (Uzbekistan is just north of Afghanistan.) They began arriving in America in 1989, during the breakup of the Soviet Union. While in power, the Soviets had vigorously clamped down on simmering ethnic tensions in the predominately Muslim province. But when the Soviets withdrew and Uzbekistan declared independence, some 20,000 fearful Bukharin fled to America, mostly to New York.

From there, they've been trickling into the Valley over the past few years. And happily, they've brought their recipes with them.

You can get a taste at

Haifa

, which opened last November in a half-empty north-central Phoenix shopping complex.

The restaurant is rabbinically certified glatt kosher, meaning the kitchen takes the strict dietary injunctions laid down in Leviticus and Deuteronomy one step further. Of course, shellfish and pork are forbidden, there's no dairy (you can't eat meat and milk products at the same meal) and animals are raised and slaughtered according to ritual law. In addition, glatt kosher requires inspecting the lungs of cattle, checking for adhesions, which may indicate a health problem. (Glatt is Yiddish for "smooth.")



Haifa

— owner Rafel

Davydov

's favorite Israeli city — has an unmistakable air of Third-Worldish splendor. It's gigantic, banquet-size, big enough to host weddings, bar mitzvahs and, on one night I was there, Kaddish prayers (a memorial service for the dead). Rows and rows of handsome chandeliers hang from the ceiling. The observant, who seem to make up 100 percent of the clientele, can ritually wash their hands at a fancy sink along the wall, just inside the entrance. The tables are lined with white linen, the plateware is set off with fancy gold trim and the odds are your server will have an uneasy command of English and an uneasy understanding about how Americans want a meal paced. (Dishes come out when they are ready, not when you are.)

Still, ready or not, what comes can be impressive. That's especially true of the salads, which you can share and make a meal out of. The kitchen sure knows its way around eggplant. It comes in two impossibly delicious forms: the roasted eggplant salad ($5.65), oily and bursting with flavor; and the heavenly babaghanouj ($4.50) that's so smoky it's a wonder the water sprinklers don't go off. The Israeli salad ($4.75), meanwhile, brings a bright, summery mix of tomatoes, cucumbers and onions. And though I'm not a fan of raw carrot, the exotically seasoned shredded carrot salad ($5), tart and spicy, gives this vegetable a whole new dimension.

Bread is an indispensable part of the salad experience. For reasons I can't begin to explain, the menu neglects to mention that

Haifa

bakes homemade

lepeshka

($3.60), a hot, crusty, doughy loaf that requires more discipline than I have not to immediately devour. Worried about your own will power? Ask for a half-loaf ($1.80).

Eating hearty Central Asian soups ($5) at this time of year seems about as appealing as wearing earmuffs. But if you can get past the calendar dissonance, you'll have no regrets.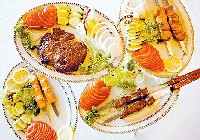 Beefsteak plate, chicken shish kebab, beef shish kebab and salmon shish kebab.




It's clear that natives are stirring the soup pots. The star is lagman, thickly stocked with beef and noodles. But you can make a case for both the borsch, rustically embellished with meat on the bone and a chunk of potato, and the pelmeni, chicken broth floating with little doughy meat dumplings. Want munchies? Think of crunchy

samsa

($2.50) and

chibureki

($2.50) as Uzbeki empanadas, filled with seasoned meat.

The most impressive main dishes are the kebabs — not surprising, since food historians believe kebabs originated in Central Asia.

Haifa

has mastered the technique of cooking skewered protein over the flames. You have four meat options: beef, lamb, chicken and lula, a mix of ground lamb and beef ($3.75 per skewer); and two fish choices: salmon ($5) and sea bass ($6). Figure on a total of three skewers for dinner. They're all quite juicy, tender and vigorously seasoned.

The other dishes can't quite keep up. Two are surely aimed at true believers. The prohibition on mixing meat and dairy turns the

Kievskie Kotleti

(chicken Kiev, $22.95) into a diminished version of the real thing. Instead of spurting butter, the boneless, fried, white-meat chicken is stuffed with spinach and topped with a Thousand Island-type dressing. It's OK, nothing more. The same is true for the beef Stroganoff ($14.95), which cries out for a rich dollop of sour cream. Lamb chops ($25.95) are routine, and no bargain.

Looking for something offbeat? If you don't mind waiting 45 minutes, zero in on the manty ($10.95). Forget about getting any enlightenment from the menu — there's no explanation. But you'll discover that they are Central Asian dumplings, the original source for all the filled pasta pouches between Italy and Japan. (In Korea, they are called mandu; in Turkey, manti.) Here, you get six big dumplings, a bit greasy and fragrantly stuffed with meat.

The sides are a bonus. Thick, crisp french fries are made of fresh-cut spuds, and the tasty blend of rice and mushrooms does more than just take up room on your plate.

Given the severe kosher constraints — no butter — dessert pastries ($3.50) aren't bad. Still, as you might expect, the napoleon, eclair and apple strudel can only approximate the best versions.

There's no question that

Haifa

is aimed at a narrow community. But this is America, and what's exclusive elsewhere is inclusive here. You may not be an observant Bukhari. But it's cool to know you can eat like one.


See previous 4 articles announcing the opening of the Haifa Restarant Bar.