Without Reservations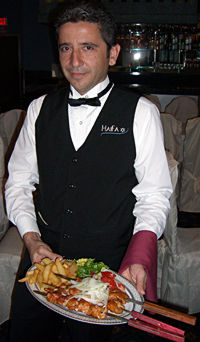 To say there's a glut of Mexican restaurants in the valley would be a gross understatement. Why there are almost as many as "American" eateries (technically Mexican is American — North American, to be precise — but that's another discussion for another day). Other ethnicities that abound are Italian and Asian (especially when all the Asian countries are lumped together, as they often are), dwindling down to some of the more unusual, including those specifically regional. Precisely where Jewish Deli fits into the scheme of (these) things, I'm not really sure, but suffice to say in Phoenix and environs, kosher-style is no stranger, even to the most devout and reclusive of Mormons.

Although Glatt technically refers to the condition that the lungs of an animal must be in order for it to be considered kosher (under a rather complicated set of rules), it has loosely been colloquialized and liberalized over the years to refer to restaurants that are strictly kosher, rather than "kosher style." Presently, to my knowledge, there are only two restaurants in the Valley that claim the Glatt Kosher appellation, the second one being just open a few months. It's called Haifa, and despite the Israeli name, the cuisine served is mainly from the part of

Russia

that is home of the "stans" east of the Caspian Sea (Turkmenistan, Uzbekistan, Kazakstan, and vicinity).

Decor-wise, the city of Haifa plays a major role, with two giant murals attesting to its attraction. Faux granite and stone columns abound — along with many dazzling crystal chandeliers, thanks to the former tenant, a Chinese buffet. Another photo-mural, this one a multi-paneled seascape (the Mediterranean?), anchors the longest wall in the mammoth, undivided dining room that seats several hundred comfortably, and then the opposite wall is mirrored to visually double the volume. All the high back chairs have ecru linen covers, which, along with the white tablecloths and ornate dinnerware, give the entire room an aura of elegance. One of the back corners houses a small stage and dance floor, while the other barely manages to accommodate a miniscule bar — just big enough for mixing, but not sitting.

The waitstaff tries to be obliging, but some small language barriers do exist, and some seemingly Russian customs could be foreign, indeed, to our Yankee way of doing things. For instance, one time we ordered Apple Strudel for dessert. Instead of the waiter telling us the kitchen was out for the evening, he just brought out Biscuit Cake, on the house. We most probably would have ordered our second choice and paid for it, instead of settling for something that most probably would have been our next to last choice. Now we ask in advance if everything is available, so any choices will be ours. (By the way, the substitution was creamy and full of walnuts, then drizzled with raspberry coulis and chocolate syrup, far tastier than the menu listing would indicate; but the Apple Strudel [which we finally sampled a few days later] was textbook perfect — and perfectly delicious. Worth waiting for!) But, let's start at the beginning and work our way to the end.

Lunch and dinner basically share the same menu, though I believe the evening listing omits the four Sandwiches and three Pitas available at noontime. We did too, because the rest of the dishes were far more interesting to us.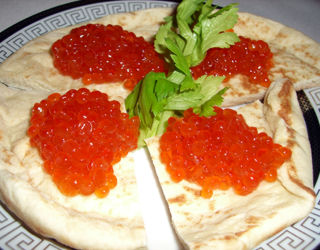 Appetizers ($2.50-$12.95) generally go from simple Samsas (think baked Meat Knishes) to Blinis with Red Caviar (more on this in a minute), with Meat (terrific Salami, Tongue, Chicken Loaf and Rolled Beef slices) and Fish Assortment Platters ($15.95-$19.95) meant to be shared by up to four people. The Humous, a perfect texture for scooping up with the accompanying Pita triangles, was dreamily smoky and rich, and the Babaga Nush (their spellings, throughout), a very generous portion, was the best I've had in recent memory. There were enough crunchy Falafel Balls stuffed into a pita pocket, along with chopped cucumber and tomato bits, to allow one each for our party of five. A bowl of Tahini Sauce and grape tomatoes and olives completed the offering, at about two-and-a-half dollars savings over the (probably identical) Pita Sandwich plate. On the other hand, the BBQ Chicken Wings, here gloppy sweet and limp, are best had elsewhere.

In regards to the Blinis With Red Caviar, we learned the hard way that a Blin is not a Blintz — by a long shot. As later verified by "The Food Lover's Companion" (my personal dining bible), Blini are yeast-raised whole-wheat pancakes covered in sour cream and caviar, while Blintzes are crepes filled with ricotta cheese, rolled up and sauteed, then topped with sour cream. (At Haifa, however, the Blinis [a plural of a plural to begin with] turned out to be one Blin, plus they forgot [omitted?] the sour cream.) At least the caviar was vibrant! If you order the former, don't be disappointed if you don't get the latter.

You certainly won't be disappointed with their Borsch as long as you realize it's the complex multi-veggie version with tomato, cabbage, onion and beets, not the beet juice concoction commonly sold in bottles in the market. Lagman has even more veggies and tangles of chewy fat noodles, while "Chicken Soup" is a heady broth containing tomatoes and wonton-sized Pelmeni-type dumplings stuffed with minced meat and onions. All soups are $5 each.

Another area where this cuisine excels is in their Salads ($4.75-$6.95 for sides, $8.95 for main dishes with large chicken breasts). All are outstanding and come in very generous portions. Some of our favorites are the Spicy Carrot Salad with its surprising little bit of a Tabasco kind of heat, the Mushroom scattered with plump brown caps, red and green peppers and lots of dill weed, and the Eggplant, featuring mellow soft chunks of its namesake along with contrasting crunchy red peppers and pickle slices.

Most noteworthy, for this part of Russia, is the Shish Kabob ($3.75-$6.00 per all-meat skewer, plus combos), and Haifa has the best of all I've tried in the Valley. I don't know if it's in the marinating or the grilling, but something very special is happening here. The Lamb, a good meat to gauge since it tends to be tough and dry at most places, was absolutely juicy and so tender it could have been cut with a butter knife — and it had that "back East" lamb flavor so elusive in the West. Beef was another fine choice for chunked meats, but I adored the Lula Kabob, a mixture of beef and lamb with lots of herbs and spices. I also, on another occasion, tried both the Salmon and Sea Bass Kabobs (mixing and matching is not discouraged here). The former was quite palatable, but the latter was incredibly silken and succulent. Have the kabobs with a side of Rice or superb fluffy French Fries, or even one of the Salads for a wonderful complete meal.

Other Main Courses ($10.95-$14.95, plus Beef Steak at $22.95 and a trio of magnificent Lamb Chops at $25.95) include a Kievskie Kotleti ($22.95) which came out so dry and tasteless it should be removed from the menu. The problem is without the use of lots of butter (it's not kosher to combine meat and dairy), Chicken Kiev is impossible to do well. Period. Beef Stroganoff fares better, even sans sour cream, because the tender strips of meat are in a lovely paprika-infused gravy. Sure, it could be improved upon with some kind of non-dairy substitute, but it's not bad at all the way it is — especially when paired with their freshly mashed potatoes with just a hint of nutmeg for intrigue.

Incidentally, the Chicken Teriyaki is quite pleasant for a dish whose origin is a continent away. I, however, would much rather have the Manty, six extra-plump meat and onion-filled giant steamed dumplings, glistening with a slick of olive oil and sprinkled with a hefty dose of freshly-chopped Italian parsley.

Aside from the two Desserts ($3.50) mentioned above (I must plug the Apple Strudel again), they have Bizei, very sweet meringues drizzled with chocolate; Napoleons, which we didn't get to sample; and Eclers, a trio of non-dairy cream-filled puff pastries (not traditionally chocolate topped, as pictured on the menu), one of which was dusted with confectioners sugar and drizzled with chocolate. Go figure! Well, at least they tasted good both ways. A healthier way to end a big meal would be with their Fruit Plate Assortment ($8.95), which I'm sure serves several. But, fruit you can eat a home. Why not splurge on something you can't — or won't bother to — make yourself?

One last word: the entertainment we saw (and, especially, heard) last Friday night was delightful. Two singers with really fine voices were singing mostly solos, but a few duos, in English, Russian, and Hebrew. Although we hadn't come for the entertainment, we dawdled over coffee and dessert for at least an extra hour after dinner, thoroughly enjoying the singing the whole time. Showtime is a theoretical 7pm 'til 10pm Monday-Thursday, 'til 1am on Saturday, and until 11pm on Sunday. I say theoretical because all the hours here have been bent a bit. One day they opened at 12:30 (noon is on the sign in the window), one night the show was over an hour late in starting, on another night they never showed at all. Just treat the signs as rough guidelines, and don't be impatient. A quick phone call could save you a lot of grief.

How do you say mañana in

Russian

?

---
Haifa provides elegant kosher dining
Jewish News of Greater Phoenix — Dec 23, 2005

When it comes to restaurants, there are three main criteria for success: Food, service and location, location, location.

At first glance, the elegantly appointed Haifa Restaurant Bar, which opened Nov. 15 at 7822 N. 12th St., Phoenix, seems a touch out of place sitting next to a dollar store.

However, that's not the case, because demographics make it an ideal location for a glatt kosher restaurant, said owner Rafail

Davydov

. (

Davydov

, who hails from

Uzbekistan

, spoke through an interpreter.)

"I chose to be here because there are a lot of Jewish people in the area," he added. Within easy commuting distance are the Valley's two Bukharian synagogues, a few other congregations and Phoenix Hebrew Academy.

And they all need a place to party. Even a congregation as far afield as Ruach Hamidbar — Spirit of the Desert, based in Scottsdale, planned its Chanukah party there.

The restaurant is set up like a banquet hall, and

Davydov

says that it can comfortably seat 250 people. A band plays before an inviting dance floor the six nights of the week that the restaurant is open.

Extensive remodeling of the 6,000-square-foot space includes what seems like hundreds of crystal chandeliers, wood flooring, huge murals of landscapes in Haifa, tiled ceiling, a bar, mirrored walls and hand-washing stations set in a marblelike counter.

White linen tablecloths and napkins punctuate the air of elegance.

Davydov has extensive experience in smaller restaurants dating back to his life in

Uzbekistan

, but said he's never done anything quite this big.

"I wanted to serve the Jewish community here with a large place that had good service and nice food," he added.



Davydov

has been in the Valley six years and before that lived in New York for two years, working with a small restaurant there.

His own interest in cooking led him to the restaurant trade. "I'm a good cook, and I like to do it,"

Davydov

said.

The menu includes what he calls traditional Israeli and Bukharian fare, including shish kebab, falafel, chicken shwarma, beef Stroganoff and eggplant salad.

As for why he named the restaurant after Haifa, he said, "I wanted an Israeli name, and I had been in Haifa many times, and I liked the city."

He liked it so much that he drove the roughly 2,000 miles from his home in

Uzbekistan

to Haifa a number of times.

On Dec. 31, Haifa plans an all-night

Bukharian

-style New Year's party.

Davydov

said he had five January b'nai mitzvah already booked in early December, and he aims to draw wedding and other banquets as well.

The restaurant is open noon-10 p.m. Monday-Thursday, 7 p.m.-1 a.m. Saturday, and noon-11 p.m. Sunday. There is a separate lunch menu, with take-out orders available. Haifa is supervised kosher by the Greater Phoenix Vaad Hakashruth.

Call 602-944-9600.

---