DOWNTOWN PHOENIX — For Ryan Dame, the experience of sitting in one of Eduard

Zavurov

's over-stuffed black barber chairs is worth a trip across town.

As

Zavurov

lathered up Dame's neck earlier this week, the 27-year-old pointed out that this was the best thing about his barber shop — a shave with a straight-edge razor.

Few barbers offer this kind of shave anymore.

There aren't too many barbers, either, who follow up a haircut with a Stim-U-Lax, circa 1945, to massage the necks and shoulders of customers.

After

Zavurov

finished Dame's shave, he picked up the silver-metal bullet-shaped contraption, strapped it to his hand and used it to help relieve some of Dame's tension.

When Dame worked downtown, he was one of

Zavurov

's regular walk-ins. Now, Dame makes the trip from 35th Avenue and Buckeye Road.

That old barber's device seems to fit with the framed newspaper clipping dated March 1928 that hangs on a wall. Back then, the shop was known as the San Carlos Barber Shop.

"With the opening of the San Carlos Barber Shop a short while ago," the article said, "Phoenix gentlemen now have at their command all the advantages for personal appearance usually found only in cities of metropolitan proportions."

With the branding of the downtown core as "Copper Square" and ongoing revitalization efforts,

Zavurov

believes his barbershop will link the old with the new within two to three years.

The barber shop next to the Hotel San Carlos along North Central Avenue has managed to survive since the late 1920s, although, the shop was closed for a time during the 1980s when there was not enough foot traffic for the shop to survive, he said.

Zavurov, 45, a Russian immigrant, bought the business, Downtown Barber Shop, a year and a half ago. He had learned the shop was for sale through the Arizona Board of Barbers. As soon as

Zavurov

walked in the shop, he felt at home.

He comes from a long line of barbers, which he calls the "

Zavurov

Dynasty."

Both his mother and father were barbers for hotels in Uzbekistan.

Everyone in

Zavurov

's family is a barber. He believes the dynasty may have started with his great-grandfather but his for-certain proof dates back to his grandfather.

When

Zavurov

lays out the chain-link connection within his family, it sounds as if he is reciting the lyrics of a song.



Zavurov

's grandfather, a barber, died young at age 26. But before he died, he taught the trade to his wife,

Zavurov

's grandmother. She taught

Zavurov

's father.

Zavurov

's father taught his wife,

Zavurov

's mother. She taught

Zavurov

, his sister and brother.

Zavurov

taught his wife and two sons.

The family began immigrating to the United States in the late 1980s and started off in barbershops in New York.

But Zavurov yearned for the hot, dry climate in the West. The rest of the family — except for his brother, Lev — followed.

So the dynasty is practicing its trade in Arizona.

Zavurov

's father barbers in Paradise Valley, his sister in Scottsdale, his two sons in east Phoenix.



Zavurov

, who lives in north Phoenix, wouldn't be anywhere but downtown, in a hotel barbershop.

"It brings me historical feelings for my grandfather, my grandmother."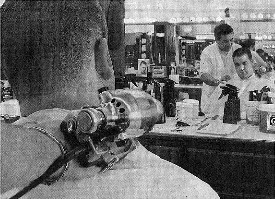 Click on photo to ENLARGE.

Eduard Zavurov gives Ryan Dayne the Stim-U-Lax treatment sfter his haircut at Downtown Barber Shop. Zavurov has owned the shop next to the Hotel San Calos for about a year and a half.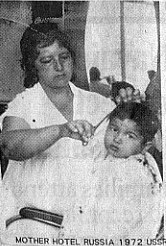 Eduard Zavurov learned
how to cut hair from his
mother, Zoya, in Uzbekistan.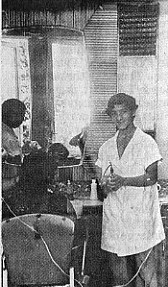 Zavurov's first day as a
barber came when he was
a teenager in Uzbekistan.
---


Also see:
Russian barbers abound in Valley


Arizona Republic

, Dec. 4 & 6, 2004