It's pretty much expected, that sound of electric razors buzzing on and on in at least a half-dozen or more Phoenix barbershops.

But what about a constant flow of unfamiliar words that might include "nyet" and "da?"

Yep!

[This one-word line and the side-bar were included in the Dec. 10 article. The reporter probably does not know it is similiar to a profane Russian word.]



The

Russians

aren't just coming, they're already here, with more arriving all the time.

They're not just good barbers, says Mario Herrera, executive director of the Arizona State Board of Barbers, "they're also very proficient and excellent shavers."

Herrera, 55, added that shaves with a straight-edge razor were almost a lost art until the

Russians

started arriving in Phoenix five or six years ago.

Mark

Mullakandov

, 32, said his family was one of the first of the Russian refugees to emigrate to Phoenix in 1991, leaving their native Uzbekistan behind because of religious persecution and a challenging economy.

Uzbekistan, in central Asia, was under Soviet Union rule until winning independence in late 1991. And with a predominantly 88 percent Muslim population, Safardic Jews such as the Mullakandovs found life more than a little uncomfortable there.

"They started telling us that we didn't belong there," said Mullakandov, who hails from Tashkent, the capital.

Mullakandov and his family now appear to be living the American dream in Arizona.

Along with his brother Eduard, 31, he opened the All American Barber Academy in Glendale two years ago, where they teach others to barber the Russian way.

"And my dad owns two barber shops here in Phoenix," he said.

Obviously, the Mullakandovs were not silent about success in the Valley of the Sun, telling friends and family back home.

"When you find a good spot, you tell others," Mullakandov said.

Igor

Ilyabayev

, 25, also a Jew from Tashkent, emigrated to New York City in 1989 with his family, looking for the same religious freedom and gainful employment as the Mullakandovs.

"Then my father's sister moved to Phoenix in 1991 and said this was a good place to live," said Ilyabayev, who manages V's Barbershop at 48th Street and Indian School Road.

The cost of living was more affordable, the pace a little easier, and the climate not a whole lot different from Tashkent's.

Now his father works in a barbershop in Sun City, his brother is a licensed barber, and Ilyabayev has worked in V's Barbershop for five years, along with three other Russian barbers and one Russian shoeshiner.

Jim Valenzuela, 43, owner of three V's Barbershops around the Valley, hires primarily Russian barbers, most of who emigrated first to New York City.

"Out of my 25 total employees,

15 are Russian men

," said Valenzuela, who opened his first barbershop five years ago. "And when I open my fourth barbershop next month in Arrowhead, I'll hire more."

He finds few drawbacks with his Russian employees, although it may catch first-time customers off guard.

"Sometimes customers are a bit overwhelmed when they come in, because everyone is conversing in Russian," he said, "but I think it adds a little culture to the shops."

It also adds to the chatter between barber and client.

"We have a little sign for each barber saying what their name is and where they're from and their hobbies, and that leads into a lot of conversations about their culture and their land," Valenzuela said. "It seems like every one of them has an interesting story to tell."

Jay

Shimunov

, 38, who in early 1993 left Samarkand, Uzbekistan's second-largest city, loved living in New York City until the Sept. 11 terrorist attacks.

"I worked in a barber shop about three blocks away from the Towers, and it was like an earthquake," said Shimunov, who also was working in the city during the earlier 1993 explosion at the Twin Towers. "I had just finished a customer and I must have jumped three feet off the floor. It was a terrible day.

"After 9/11, it was hard to make money, and after I visited a cousin here in Phoenix in May of 2002, I moved here. I have a lot of friends here now."

He also works for Valenzuela, owns a home, has two cars and a much improved lifestyle from both Uzbekistan and New York.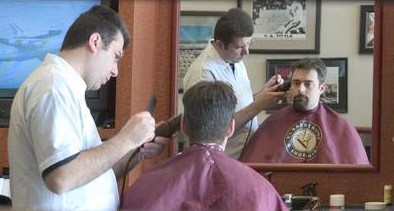 Jay Shimunov cuts the hair of Jason Kalofat of Phoenix at V's Barbershop a 1 N. Central Ave., Phoenix. Shimunov, 38, is a Russian Jew who lived in New York City but came to Arizona after the Sept. 11 terrorist attacks.
(Dec. 4 photo)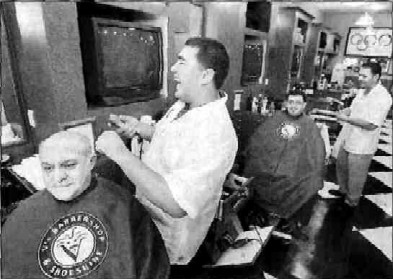 Dec. 6 photo:

V's Barbershop, with three Valley locations, employs 15 barbers with Russian heritage, including (from left) Mihael Pinhasov, Igor Ilyabayev, Rony Yagudaev and Mark. Kuinov.

Dec. 10 photo:

V's Barbershop on Indian School Road is staffed by Russian barbers. Owner Jim Valenzuela says teh immigrants bring skill to the job.





More about the influx of Russian barbers



Mario Herrera, executive director of the Arizoan State Board of Barbers, said it was hard not to notice the influx of Russian barbers to metropolitan Phoenix.

"At one point, a quarter of all the licenses taken out were by Russians," he said.

Although the board is not allowed to track barbers by ethnic origin, Herera estimated that out of the nearly 4,500 licensed barbers in the state, "60 are from this particular area (Uzbekistan)."

[They are Bukharian Jews. See Nov. 2003 NEWS: "

Russians coming to a radio station near you

"]



To become a licensed parber in Arizona, applicants must have the equivalent of 1,500 hours of training, a 10th grade education, be 16 years or older, pass a 100-question written test and demonstrate their talents by cutting a head of hair and giving a scalp manipulation, along with a facial, shampoo and shave.

To facilitate the Russian applicants, Herrera often has provided an interpreter for the written portion.

A barber must renew his license eaver two years. The fee is $80.



"This place would spoil anybody," he said.

Phoenix didn't necessarily spoil Rony

Yagudaev

, 21, whose parents emigrated from Samarkand to Brooklyn before he was born. But according to him, it saved him.

"I grew up in a rough neighborhood and I was getting into a lot of trouble," the newest member of Valenzuela's staff said. "But when my parents moved here seven years ago, I actually learned how to speak Russian because there are so many here."

Now he shows off photos at his workstation of all his newfound Russian friends and enjoys the camaraderie of the other Russian barbers.

"We're all related somehow," Yagudaev said, and not just by their bloodlines but their stomachs.

"These guys, they love their food and they eat like kings, bringing their lunch every day from home. They're beautiful dishes, kabobs and meat and rice dishes, stick-to-your-gut kind of food, with nothing low-carb about it."

The only downside to employing his host of Russians is when a Jewish holiday rolls around.

"I have to close on Yom Kippur out of respect for their religion, but it really hurt because this year because it fell on a Saturday, and that's our busiest day," he said. "But I think they appreciated it, because they were all there bright and early the next morning at 8 a.m."

Mihael

Pinhasov

, 56, who hails from Tashkent and shines shoes in one of Valenzuela's barbershops, said having a temple of his own where his other co-workers attend is his greatest joy.

"It's very comfortable here, and I'm so glad to share my religion now with all my people," he said. "We can finally pray together."

---
Also see:
Vintage barber shop in hands of dynasty
,
The Arizona Republic
, Valley-State, Oct. 13, 2005 , page B2