Last year, "The Golden Age of Russian Impressionism: The Kohn Collection" attracted record crowds at the West Valley Art Museum and proved to be so popular that its run was extended.

Through April 10, art lovers have the opportunity to revisit this particular style of art with "The Hidden World of Soviet Impressionism: The Kohn Collection."

Focusing on paintings created by Soviet masters from 1940-1970, the 47 works are drawn from the collection assembled by Elena Kohn's father, an artist and artistic leader.

He felt the need to preserve a growing body of work that extended beyond the acceptable. Since the Soviet regime frowned upon decadent Western styles such as Impressionism, these works were usually painted in secret.

"The preservation of these paintings by Mr. Kohn, who for a time was a member of the Russian Artists Union, is a miracle," says Anthony Lacy Gully of the Herberger College of Fine Arts at ASU. "His decision to protect his collection by secretly sending the threatened paintings to his daughter in Arizona has afforded an American audience an opportunity to see and study a side of Russian art that lies outside the definition of the approved Socialist Realist art."

Seeking a compromise that allowed them to stay politically correct, Soviets artists vacillated between academic fundamentalism and impressionist flexibility.

"These richly pigmented canvases are created using a vigorous ala prima technique, splendidly portraying life yet below the surface of the appealing color palette, these paintings tell the story of a poignant time in history," says David Tooker, executive director-curator of the West Valley Art Museum.

While the paintings in the collection reflect certain influences that can be attributed to French Impressionism, there is something very Russian about them that holds the viewer.

Evening in the Country by Yuriy Petrov was obviously inspired by love of the Russian motherland. The people, no less important, are depicted with loving and penetrating characterizations. The serene Portrait of Mrs. Tyshkevich and Son by Viktor Gromyko contrasts with the robust Folk Singer by Tatyana Marchenko.

[Above]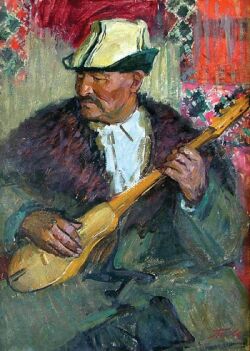 Tatyana Marchenko "Folk Singer", 1996, oil --
See origin link with text.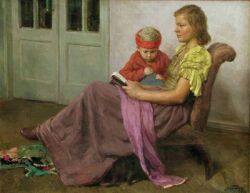 Viktor Gromyko "Portrait of Mrs. Tyshkevich and Son", 1956, oil --
See origin link with text.
See more pictures.

---
"I feel a great responsibility to be a bridge between the Russian/Soviet Impressionist artists and the West," says north Scottsdale resident Elena Kohn, who has bachelor's and master's degrees in fine arts from the prestigious Moscow Art University.

"As a professionally trained artist, I believe this was the strongest realistic art in the 20th century. However, because the Soviet society was so stifling, it wouldn't let the West know what was going on in Russia. Finally these wonderful artworks can receive the attention they so richly deserve."