To Elena Kohn and her family, art is life. So much so, that her father almost risked his very own more than 30 years ago to preserve a rare collection of Russian Impressionistic works from destruction in Soviet-led Russia.

Secured in her beautiful Los Portones home are the true masterpieces, works of art that have traveled from the snow-swept landscapes of Russia, to the sun-drenched beauty of the Sonoran desert. Kohn, 35, is sharing her collection in an exhibit entitled "The Golden Age of Russian Impressionism: The Elena Kohn Collection," at the West Valley Art Museum through Jan. 11.

In 1992, Kohn emmigrated from Moscow to the United States, where she became an art professor at the University of Alabama. Two years ago, she moved to Arizona, a place she considers quite exotic. "I can't imagine a place that's more different than Moscow," Kohn says. "The skies are a brilliant blue and the sun is always shining!"

A fine artist in her own right, she says she is fascinated by the area's interplay of light and shadows.

When not painting landscapes and portraits in oil, she is busy introducing art lovers to her incredible collection of Russian Impressionist works. "I feel a responsibility to act as a bridge between the works of these artists and the American people," Kohn says.



Russian Impressionism



Embraced by many Russian artists in the late 19th century, Impressionism survived even though it was criticized by the Russian Revolutionary avant-garde, and suppressed by the Soviet regime into the 1970s. Impressionism's resilience is due, in large part, to how dramatically it expresses the Russian love of the country and its people.

After depicting happy farmers and tank crews on canvas-as dictated by the Soviet arbitrators of taste-many artists privately painted in an Impressionist style. These gentle rebels often worked at night, and in freezing conditions. Sometimes, they were reduced to using brushes made of their own hair wrapped around twigs.

"These artists were willing to brave harsh conditions in order to paint personal thoughts and passions that weren't dictated by the Soviet Regime," Kohn points out.



The Kohn Collection



The story of how this amazing collection came to the United States is as remarkable as the artwork. Elena's father, an artist and leader in Moscow's Russian Union of Artists, had befriended many artists during the 1940s, 50s and 60s, and understood the value of their Impressionistic works.

"By collecting more than 200 paintings and recording information about some 120 artists, my father preserved an important era of Russian Impressionism," Kohn says.

When her father's studio was broken into in the late-90's, he became concerned for the safety of these rare, much-loved canvases. To preserve these fine works of art, the paintings were shipped two or three at a time, swathed in old clothes, to his daughter in the United States.


If you go
"The Golden Age of Russian Impressionism: The Elena Kohn Collection" will be on exhibit through Jan. 11. The West Valley Art Museum is located at 17420 N. Avenue of the Americas in Surprise. For more information, call (623) 972-0635.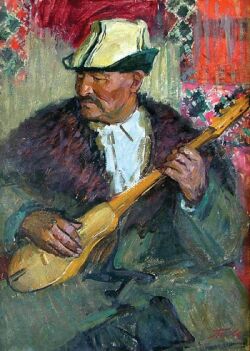 Tatyana Marchenko "Folk Singer", 1996, oil --
See origin link with text.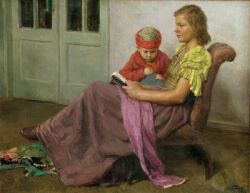 Viktor Gromyko "Portrait of Mrs. Tyshkevich and Son", 1956, oil --
See origin link with text.
See more pictures.

---
Thanks to Kohn's dedication to preserving these rare pieces, Valley art lovers are being treated to a very special showing. "I met Elena Kohn a year ago. She showed me 30 canvases from the collection and I immediately scheduled an exhibition," says David Tooker, curator at the West Valley Art Museum. "Six months later, I returned to select 45 more paintings. It was a welcome task of sheer exhilaration!"

One painting Tooker selected is the dazzlingly sensuous landscape "March" by Boris Sporykhins. The viewer can almost hear the birds heralding the advent of spring, almost smell the fecund earth as its mantle of ice and snow melts in the gentle sunlight.

Born in 1928, the classically trained Sporykhin found a mentor in Pyotr Konchalovsky, a famous artist who had been influenced by Vincent van Gogh.

"The viewer's visceral reaction to these extraordinary paintings is due to each artist's clarity of vision and the non-derivative nature of their work," Tooker stresses. "Motivated by a need to rebel against the politically-based government-approved styles of their time, these artists have given the world 'windows' into the daily lives of the Russian people. And they have done so with a richness and vibrancy of color that is truly enchanting."

These paintings, created with great love of country, represent the true feelings of the Russian people who lived behind the Iron Curtain. "Every piece in this collection reflects hope and the ever present will to be free," Kohn says.