Далеко от Москвы?

Скучаете по русской музыке?

Are you Far From Moscow? Do you miss Russian music?
On the updated website "Far from Moscow" read articles about new music from the Former Soviet Union in Russian and English. Over 1,200 ensembles are indexed, plus 100s of new music videos. Download free selections on iTunes. Play on iPhone.

All types of music, all created in Russia, can be found — rock, pop, electronic, experimental, instrumental, folk, Latin, jazz, reggae and easy listening. Sign up for RSS feeds of new features, or updates on Facebook.com.



Map shows locations of music, videos, and articles added to "Far from Moscow" website.
Far from Moscow is far out, cool, awesome — это прикольно — thanks to the dedication of Dr. David MacFadyen, Professor of Russian language, University of California, Los Angeles (UCLA). He promotes, catalogs, and reviews new music from Russia, Ukraine, and Belarus, together with the Baltic nations (Latvia, Lithuania, Estonia), across 11 time zones.

This website may help Russian musicians get attention they need. The re-centralization of Russian media, payola and piracy make it hard for small artists to sell their work. This website does much of the research for you to find new MP3s and CDs, from both big state-sponsored media and small alternative media.

New handheld media and wireless technologies are developing in Russia, especially in oil-rich, border territories like Siberia. The distance between wealthy and impoverished markets (

rinoks

) is diminishing. The gap between national television and private laptops or cellphones is collapsing.

First logo.


New logo won design award.



Professor David MacFadyen, born in England, wrote several books and dozens of reviews and publications on Russian culture adn media. In his 2008 book — Russian television today: primetime drama and comedy — MacFadyen examines how Putin used television to define what it means to be Russian; the role of love, fidelity, humor and irony; the problems of crime and the police; and social and political developments in Russian society.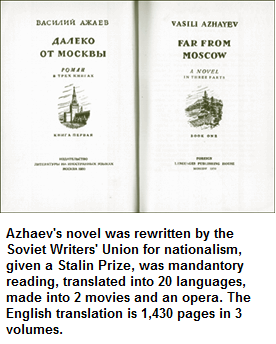 He named this website after a famous 1946 Soviet novel by Vasili Nikolaevich Azhaev — "

Daleko ot Moskvy

". It celebrates the fictional heroic efforts of Siberian oil workers during World War Two, far from comfort or safety. The engineers worked under appalling conditions, attacks from the Germans, but finished the pipeline, and the is war won. MacFadyen aims to similarly support Russian musicians who are isolated in Russian media, culture and politics.

So far, no other place online showcases the most popular art form of the world's biggest country. Click on "Far from Moscow" to be closer to Moscow.

Far From Moscow, Facebook.com.

UCLA's Professor Launches a Website on Russian Pop Music,

RussiaBlog

, May 31, 2008.
How Life Writes the Book: Real Socialism and Socialist Realism in Stalin's Russia,

Canadian Slavonic Papers

, Mar 1999. How the Soviet's created a novelist, a novel, and an audience — Far from Moscow.
The Soviet Lit Biz

, Hoover Digest

, 1998 no. 1.
Lahusen, Thomas. The Mystery of the River Adun: Reconstruction of a Story, in T. Lahusen, G. Kuperman: Late Soviet Culture: from Perestroika to Novostroika, 1993, pages 139-154. — Analysis of versions of the novel Far from Moscow.
State Stalin Prizes for literature 1949, USSR State Prize,

Wiukipedia.org

.


---