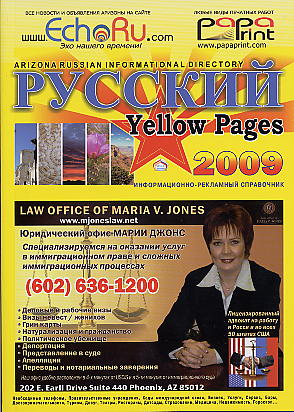 Of 100 pages:

2 page Phoenix map
5 pages show (1 page each) listing: religion, Arizona / US government, embassies in FSU and US, international phone codes, Phoenix airlines, and a measurement conversion chart.

8 pages of ~193 businesses in 20 categories

11 pages are excerpts from a book: "Hello America: a practical guidebook for everyone who went to the USA"
13 pages are a list of 100 questions and answers for the US citizenship test
16 pages of colored ads
17 pages are horoscope
29 pages of black and white ads
That's about 53 pages of ads. This book must be given away.