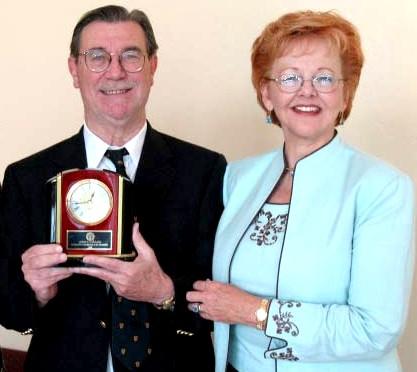 Dr. John Garrard with Carol showing his award
for outstanding research in the College of
Humanities during the 2008 Spring Pre-
Commencement luncheon at the Univ. of Arizona.

Project summary: The dual purpose of this book-length study is

first, to demonstrate that, in the slow and painful recovery of the Russians' sense of themselves as a nation, a key role is being played by the Russian Orthodox Church.
The second objective is to set forth the implications of this critical development for Russia's immediate future as a civil society and as a partner in the search for international peace and security. The project will be carried out in a completely non-partisan, objective manner. The writer is not a member of the Orthodox Church.
Russian Orthodoxy Resurgent is the first book to fully explore the expansive and ill-understood role that Russia's ancient Christian faith has played in the fall of Soviet Communism and in the rise of Russian nationalism today, and is the hidden force behind Russia's domestic and foreign policies today.

Rusian Orthodox Church helped defeat the 1991 Communist coup against Gorbachev
Patriarch Aleksy II, a former KGB officer and the man behind the church's successful defeat of the coup, is reconstituting a new national idea in the church's own image
KGB and Vladimir Putin proclaim the cross, not the hammer and sickle
Most Russians now embrace the Orthodox faith with unprecedented fervor
Biography: As a young private in the Royal Inniskilling Fusiliers, I was posted to Northern Ireland, an experience that left me with a lifelong commitment to religious tolerance. ... (I was assigned to) British Intelligence as an officer-cadet and sent to the Univeristy of Cambridge to learn Russian in a then secret operation run by the Joint Services School for Linguists. I mustered out as an Interpreter, and took up the place that had been held for me for two years at Oxford University. ... My current project, on the resurgence of the Russian Orthodox Church, has brought me full circle to the same issue I faced over 50 years ago patrolling "Sniper Alley" in Northern Ireland: the critical need on this planet for religious tolerance.

When asked about the fate of other Christian faiths, not Orthodox, in Russia, Dr. John Garrard responds: "I am sorry to see that post-Soviet Russia continues to discriminate against all Christian confessions other than Russian Orthodoxy—Moscow Patriarchate. Tolerance, Russian style, is to extend legal equality to Judaism, Islam, and Buddhism, but to make the ROC the sole Christian confession available. I take a balanced view of the ROC—the fact that there has been no large scale neighbor on neighbor violence along the lines of religion (as there was when Yugoslavia broke up and as there is today in Iraq) has been a hugely positive step for the country, but the true separation of church and state, while enshrined in law in Russia is abrogated [abolished] in daily life."

The new book will be launched at a presentation free and open to the public on October 20, 2008, from noon to 1 pm, at the Woodrow Wilson International Center for Scholars, Ronald Reagan Building and International Trade Center, One Woodrow Wilson Plaza, 1300 Pennsylvania Ave., NW, 8th floor auditorium, Washington, DC 20004-3027.

More about Russian Orthodoxy Resurgent: Faith and Power in the New Russia
by John Garrard and Carol Garrard
Cloth — 2008 — $29.95 / £17.95 — 348 pp. — 6" x 9" — 24 halftones.
$30 at Princeton University Press 1-800 777-4726 — $22 at ChristianBook.com


---