Accent cover story
This is your 'Nutcracker'
By Gerald M. Gay,

Arizona Daily Star

, Tucson, 11.23.2008



Tucson Regional Ballet's "A Southwest Nutcracker" sets itself apart from other "Nutcracker" productions. Its desert imagery, from coyotes to caballeros, gives it a unique voice that makes it especially appealing to Arizona audiences.





But like the hundreds of other "Nutcrackers" that will take place across the country this holiday season, "A Southwest Nutcracker" isn't an easy ballet to produce, even as it celebrates its 15th anniversary.





The cast, crew and volunteers stand at 150, including dancers, musicians, costume designers and choreographers who work hard each year to make the magic happen.





In turn, the ballet provides a sense of community, an avenue for creativity and the opportunity to forge behind-the-scenes friendships that might just last a lifetime.





— Gerald M. Gay



The scene is chaotic on a Saturday afternoon at Linda Walker's Academy of Ballet on the Northeast Side. At least it is to those unfamiliar with Tucson Regional Ballet's weekend rehearsals for its annual production of "A Southwest Nutcracker."

In one room, swarms of young girls in multicolored leotards — half pretending to be coyotes, the other half Fort Lowell cavalry soldiers — are battling in a carefully choreographed scene while 30 more dancers watch from the sidelines.

Two rooms down, 10 adult volunteers, including professors, a therapist, a lawyer and a physician, are soon hashing out the "Nutcracker's" opening party scene, trying their best to mimic what a soiree thrown by a well-to-do Tucson family in the 1880s might look like.

Walker, dressed head-to-toe in royal blue, calls out directions to her performers from a chair in the volunteer room as Tchaikovsky's classic "Nutcracker" score blares through speakers connected to an aging silver stereo system.

"It all comes together in the end," Walker explained. "We know exactly how this thing is done. It is a big puzzle right now, but all the pieces will fit."

Walker is an old pro when it comes to "A Southwest Nutcracker," a Tucson take on the classic fairy-tale ballet, as are many of the 150 cast, crew and volunteers.

Next weekend's performances will mark the adaptation's 15th anniversary.

Over the years, "A Southwest Nutcracker" has become just as much of a tradition for the people involved with it as it has for the fans who come and watch. From the dancers, to the costume makers, to the choreographers, everyone comes away with something special, and everyone has put their best foot forward to get the production where it is today.



The vision



Walker's road to "A Southwest Nutcracker" has been a slow-going series of baby steps.

Having served as a student at the Joffrey Ballet School in New York and with the San Francisco Ballet, Walker moved to Tucson from California in the mid-1970s. By 1981, she had her own school up and running in a one-room storefront on the East Side.

Walker opened the school to teach her own daughter how to dance. "I wasn't particularly pleased with the teaching quality that was being offered in Tucson back then," she said. But it wasn't long before students began pouring in.

By 1983, Walker, with help from key community members, had created a separate nonprofit performance group, the Tucson Regional Ballet, or Tucson Community Ballet as it was then known.

Both the school and the company continued to grow over the next decade until Walker, who had already moved her school into a 5,000-square-foot facility on North Wilmot Road, decided that it was time for her company to take on the "The Nutcracker."

From the very beginning, Walker wanted her "Nutcracker" to have Tucson ties.

"I had seen a video of a 'Nutcracker' that Rudolf Nureyev had choreographed that was set in Paris instead of Germany," Walker said. "All the names were French. They had costumes and characters to portray the French lifestyle. I asked my co-director how she would feel about setting our 'Nutcracker' in Tucson. She was cautious but was willing to give it a shot."

The company began buying fabric from local vendors and piecing costumes together from repertory works performed in years prior. All new choreography was created, as were Southwestern equivalents of traditional 'Nutcracker' characters.

The main character, a young German girl named Clara, became Maria. The dancing sugarplum fairy was now a prickly pear. Mischievous mice turned into coyotes, and snowflakes still appeared, but in Tucson Regional's rendition, they were falling at the top of Mount Lemmon.

People loved it. The production's first shows at the Leo Rich Theatre sold at 80 percent capacity when it debuted in 1994, and the fan base has continued to grow. Sets and backdrops have been built up. Costumes have been improved upon. In 2004, the company moved from the intimate Leo Rich to the much larger Tucson Music Hall, and the production now receives live musical accompaniment from members of the Tucson Symphony Orchestra.

Today, "A Southwest Nutcracker" has a budget of $135,000, paid for through grants, ticket sales and private donors.

Progress has been steady, but Walker says the hundreds of young girls who have participated over the years, including those who have stuck with the company, are what matter.

"Seeing these children that I have had in my company for 13 years walk through my door as young women makes my life happy and gives it quality," Walker said. "I am so blessed to have all of this."



The dancers



One of Walker's longest-running performers in "A Southwest Nutcracker" is Hallie Edmonds.

Edmonds, 21, was in first grade when she performed as a Native American princess in the very first production of "A Southwest Nutcracker."

"It was a little overwhelming in a lot of ways," Edmonds recalled. "But I never really thought at the time about the fact that I would be in front of all these different people. It was more about the thrill of being onstage, and all the lights and getting to wear makeup. I do remember it was a wonderful feeling getting applause. You don't get that in practice."

Edmonds, an anthropology and art history major at the University of Arizona, has performed almost every role offered by the production: snow queen, a chile pepper, a soldier, a coyote. She is significantly older than many of the senior company members, whose ages range from 13 to 18.

But Edmonds is passionate about dancing for Tucson Regional. She has developed strong ties with Walker and members of the company, both past and present. Rehearsing for "A Southwest Nutcracker," and dancing in general, relieves stress after a long day in class. For Edmonds, the thrill ranks right up there with hiking or playing the violin.

"It is how Linda structures it," Edmonds said. "What's great is that every person gets seen. Everybody gets a part that will allow them to wave at their mom in the audience if they wanted to. My family still comes to see me, and I talked some of my UA friends into coming this year."

Timothy J. Reckart, a 52-year-old attorney, is another longtimer in Walker's production. Reckart has been a volunteer in the party scene since the show's humble beginnings. Over the last 14 years, he has seen all three of his daughters move through Tucson Regional Ballet's ranks.

"I originally joined because there weren't a lot of male ballet dancers they could pull from in town," Reckart said. "Being a dad, I'm used to doing stuff like this."

It wasn't a difficult sell. Reckart loved ballet even before having kids. He had four sisters and all of them were dancers. His wife is from Hawaii and was raised with an appreciation for traditional hula.

His oldest daughter was 10 when she first performed in the production. Today, she is 24 and works in the marketing department for the Independent Film Channel in New York.

Reckart has played various members of the party scene, but has fulfilled the role of Maria's father for much of the last decade.

"The dances stick with you," Reckart said. "When I first took on the role, I wrote every movement down. I played football in high school, but I was stunned at how much of a mental element there was in ballet. I literally had to write everything down and spent every night for two weeks going over it."

These days, the moves flow naturally for Reckart. Despite juggling a full schedule that includes regular out-of-town business trips, he has made time to participate in the "Nutcracker" for his daughters.

"The quality with this production is something that I've always been impressed with," Reckart said. "I've seen my girls flourish here and they are wonderful girls. Ballet has supported that character development with its discipline and the expectations that Linda places on them."



The look



From September until showtime, wardrobe director Geri Salmen is constantly on the move.

She can be found during most rehearsals scurrying around the academy, picking girls out of practice to repair rips and adjust fittings.

"The tutus just take a beating sometimes," Salmen said. "I probably spend about five hours a day costuming at the school and another two at home. Things get hectic."

Like Reckart, Salmen, 48, has been with Walker since the very beginning of "A Southwest Nutcracker." Originally an adult student at Walker's school, Salmen started out in the ballet as a dancer in the opening party scene and still plays a part.

"I used to be a party lady and now I play one of the grandmothers," Salmen says with a laugh.
When Walker found out that Salmen could sew, a skill she picked up from her aunt as a child, Salmen became the official wardrobe director. She has held the position for more than a decade.

As the go-to woman for costume fittings and repair, Salmen is in charge of more than 100 outfits, ranging from spicy red numbers for the chile peppers to the flowing folklórico-style dresses for the dulce dancers in the Mama Piñata scene.

Salmen said that while the characters' wardrobes have stayed in the same vein, the quality has improved dramatically.

"Everything is more elaborate now," she added. "When we first started, things were fairly simple. The party ladies had nice dresses. They weren't horrible, but now they have bustles and lace and beading."

The upgrades in costumes have matched the upgrades made to the elaborate sets that include colorful Southwest-themed backdrops and a giant 35-foot Christmas tree that expands on stage during the production.

With so much work to be done on clothes, Salmen said she is relieved when the shows are over and her life can get back to normal. But she'll never get tired of working with the performers, especially the children.

"Seeing their faces light up when they get their costumes for the first time makes it all worth it," she said.



The music



While almost everything is different in Walker's re-imagining of "The Nutcracker," the production features the same Tchaikovsky score that the audience heard when the ballet first premiered at the Imperial Mariinsky Theatre in St. Petersburg, Russia, in 1892.

Members of the Tucson Symphony Orchestra have taken on the task of providing the live musical accompaniment for the last six years. Half of the TSO works on the "Nutcracker." The other half works on the orchestra's annual performance of Handel's "Messiah," which will take place in early December.

Frances Veres, wife of Arizona Symphonic Winds, Foothills Phil and Tucson Pops Orchestra conductor László Veres and a violinist with the TSO, has been "A Southwest Nutcracker" player since the beginning of the TSO's involvement.

"I really don't get tired of it," Veres said. "It is such a classic piece that has stood the test of time. It is fun to play and the audience loves it."

Veres has had experience with "The Nutcracker." Back in the 1960s she worked as a violinist for the National Ballet in Washington, D.C.

"We did it 40 days in a row in those days," she said.

Still, no matter how many times she plays it, the composition manages to keep her on her toes.

"You aren't bored at all playing this," Veres said. "It is technical enough that even today I still look at it. I will make sure I've got it under my fingers and that I practice through the hard parts."

Veres, a member of the TSO since 1982, said the most difficult aspect of performing "The Nutcracker" is developing the ensemble. "You have to move from piece to piece very quickly," she said. "There is no time to yawn. Most of us have been doing this together for a while now, but it is still a challenge."

As a performer in the pit, Veres said, she never gets to see the production, yet understands its value to the community.

Veres is an active musician with the Tucson Unified School District-supported Opening Minds Through the Arts (OMA) program that integrates the arts into everyday school subjects such as reading and math using local professional musicians, singers and dancers.

Veres says her OMA team performs a version of "The Nutcracker" every year for students.

"I hope productions like 'A Southwest Nutcracker' go on forever," she added. "It is so great for kids and the music is fabulous.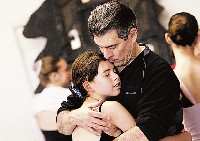 Timothy J. Reckart hugs his daughter, Lizzie, 11, between rehearsal scenes. Reckart has been a volunteer in the party scene of the ballet since the show's inception. Over the last 14 years, he has seen all three of his daughters move through Tucson Regional Ballet's ranks.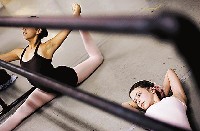 Alyssa Martinez, 17, and Katie Smith, 13, stretch during rehearsal for Tucson Regional Ballet's production of "A Southwest Nutcracker."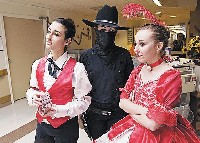 Hallie Edmonds, left, Rachel Engman and Nicole Surran watch the beginning of Act I before having to perform themselves at Waverly Park Healthcare Center. The Tucson Regional Ballet's performance at area nursing homes provided an opportunity for the dancers to rehearse in costumes before a live audience, though some filled in in different roles than they'll play at the Music Hall.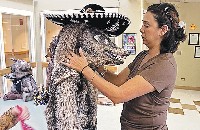 King Coyote, played by Hannah Pivo, receives some help with her costume from Annaliza Sala before taking the stage at the Waverly Park Healthcare Center.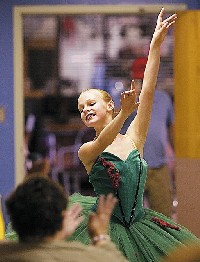 Paige Holmes, playing the part of an ocotillo, receives applause from a resident during a performance at Posada del Sol Health Care Center.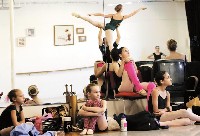 Young dancers look on as one of the stars of the show, Holly Bentkowski as Maria, is lifted in the air during a rehearsal. Maria is the Southwestern equivalent of the traditional "Nutcracker" character Clara.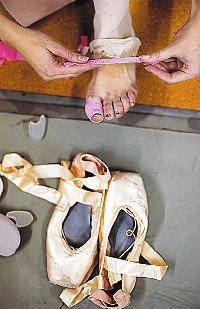 If dancers can wear out a pair of full toe shoes in less than two weeks, imagine the care their feet require.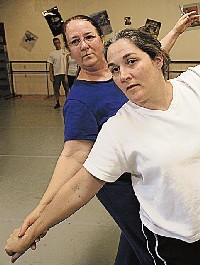 Director Linda Walker, left, works with costume designer and dancer Geri Salmen during a rehearsal. The Southwest themes include cacti, coyotes and cowboys.

---

Synopsis

Act I




A young girl named Maria Martinez and her family prepare for a lavish Christmas Eve holiday party in 1880s Tucson. The evening welcomes childhood friends and family, but Martinez is most excited when her uncle Diego arrives.


Diego is an intriguing character full of Wild West stories and gifts for the children. He gives Martinez her very own nutcracker dressed as a cavalry general. The party ends and Martinez winds up asleep on the sofa.


Martinez wakes up at midnight to discover an army of coyotes in her home. As they ascend on the helpless little girl, out from behind the Christmas tree come the Nutcracker General and his soldiers. A chaotic battle ensues.
Amid the fighting, Maria sees her nutcracker, now a handsome young soldier, and runs away with him to the top of Mount Lemmon.
It is on Mount Lemmon that they encounter the majestic snow queen and her snowflake subjects.

Act II
Martinez and her nutcracker move from dancing snowflakes to Native American princesses, then to prairie children, a dancing caballero and the Prickly Pear Fairy.


The Prickly Pear Fairy holds a fiesta for her special guests, and one after another, groups of dancing chile peppers, maidens, rattlesnakes, tumbleweeds, ocotillo, desert flowers and dulces make appearances.


Worn out from the evening, Maria grows tired and uncle Diego leads her home. She wakes up from her dream on Christmas morning.


Source: Tucson Regional Ballet
---
"Nutcracker" performances
Nov. 29-30
Tucson Regional Ballet's "A Southwest Nutcracker"
When: 2 p.m. and 7:30 p.m. Saturday, 2 p.m. next Sunday.

Where: Tucson Music Hall, 260 S. Church Ave.

Cost: $33 with discounts available, 885-0862.
Dec. 5-7
Ballet Continental's "Nutcracker"
Where: Sahuarita Auditorium, 350 W. Sahuarita Road.

Cost: $13 in advance. $15 at door with discounts available. 326-7887.
Dec. 7
Ballet Tucson's Eighth Annual Sugar Plum Tea
When: 11 a.m., 3 p.m. and 7 p.m.

Where: Arizona Inn, 2200 E. Elm St.

Cost: $75 perperson. 903-1445.
Dec. 12-28
Ballet Arizona's "The Nutcracker"
Where: Phoenix Symphony Hall, 75 N. Second St., Phoenix.

Cost: $15-$117 through Ticketmaster, 321-1000.
Dec. 12-14
Ballet Tucson's "The Nutcracker"
Where: Centennial Hall, 1020 E. University Blvd.

Cost: $27-$47, with discounts available, through the Centennial Hall box office, 621-3341.
Dec. 19-20
A Time to Dance Youth Ballet's "Nutcracker"
Where: Berger Performing Arts Center, 1200 W. Speedway.

Cost: $8 in advance, $10 at the door. 272-3400.
Dec. 19-20
Ballet Rincon's "The Nutcracker"
Where: Santa Rita High School, 3951 S. Pantano Road.

Cost: $10-$14 with discounts available. 574-2804.
Dec. 20-21
Dance Magnificat's "The Nutcracker"
Where: Pima Community College's Proscenium Theatre.

Cost: $25 with discounts available. 206-6986.
---
Holiday ballet is a crowd-pleaser
Tucson Regional Ballet's "A Southwest Nutcracker" is one of six "Nutcrackers" being produced in the Old Pueblo this holiday season.


Those productions join hundreds of other "Nutcrackers" happening from coast-to-coast in the United States on an annual basis.


"The Nutcracker" is considered to be one of the most widely danced ballets in the world and profitable to boot.


So what makes it such a crowd-pleaser?
Jennifer Fisher, author of the 2003 book, "Nutcracker Nation," believes its popularity lies in the idea that Christmas is a holiday that needs a performance.


"This is such a diverse population that the celebration of Christmas no longer centers around the church," said Fisher, an associate professor with the dance department at the University of California-Irvine, in a phone interview last week. "We now congregate around a work of art which allows for more people of different backgrounds to echo these themes."


Tucson's A Time to Dance Youth Ballet, led by artistic director Dee Dee Doell, will put on its ninth annual "Nutcracker" Dec. 19-20 at the Berger Performing Arts Center.


Doell said A Time to Dance's "Nutcracker" performances are regular sellouts.


"We do fairly well as far as ticket sales are concerned," Doell said. "But we don't charge a lot. It helps us recover all of the costs that we lay down getting ready."


And Mary Beth Cabana, artistic director of Ballet Tucson, the city's only fully professional company, said its take on the classic Victorian "Nutcracker" is usually a high point in the season in terms of ticket sales.


"It is very well attended," Cabana said. Ballet Tucson's "Nutcracker" will be held at Centennial Hall this year.


"A lot of people will come to 'The Nutcracker' who don't usually come to the ballet because it is a very big part of their holiday season. We put on a classy production. People are looking for that kind of tradition during the holidays."