WHERE YOU'VE BEEN

By Merlena Stubblefield — Arizona Republic, Page T1 — June 15, 2008

A trip to Russia, with love, fulfills a long time dream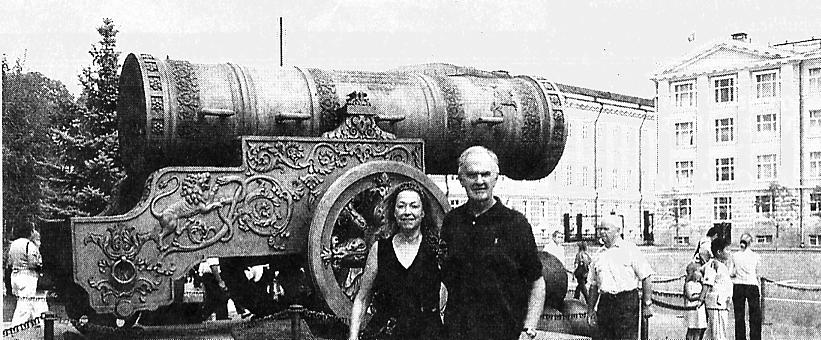 Merlena and Warren Stubblefield in the Kremlin near the 40-ton Czar Cannon, Cast in 1586, believed to be the world's oldest and largest cannon and never used. Vladimir Pirtin's office is in the background.

Merlena Stubblefield and her husband, Warren, of Scottsdale, toured Russia in August 2007. She said, "I had wanted to make this trip to Russia since the early '60s,but world affairs always seemed to get in the way."

I'm not sure when my fascination with visiting Russia began — maybe with the Cold War or Sputnik. Something even inspired me to study the Russian language for two years in college. All I know is my dream trip to Russia finally became reality. Along with our friends Jules and Marita, a group of Phoenicians flew to St Petersburg, boarded a nicely rehabbed 1979 Soviet riverboat and sailed to Moscow last summer.

As we toured, the differences between the two big Russian cities became evident. St Petersburg feels like other European cities with its rich history, castles and art. The drama, opulence and lives and deaths of the czars came alive in the Hermitage Museum and the restored French and Italian-designed palaces. Magnificent Peterhof, home of Peter the Great with its cleverly engineered fountains and lush gardens, rivals Versaille!

Moscow with the impressive walled Kremlin, immense KGB headquarters and the occasional "hammer and sickle" logo on buildings, was a more "serious" place. A trip on the legendary Moscow Metro, with its beautiful one-of-a-kind stations decorated with huge crystal chandeliers, mosaics, stained glass and marble, was memorable because we shared this experience with more than 9 million Muscovites who travel this way daily.

To finally stand on Red Square and enter the Kremlin walls, where we toured a 15th-century church and the armory museum and saw Vladimir Putin's office building, was a surreal experience.

In between touring these big cities, we visited smaller towns, where we got the best view of where Russia has been, where it is today, many years after perestroika, and where it may be headed. One thing was certain, tourists from all over the world are heading to Russia in great numbers. Tourism is flourishing.

Kostroma, home of the Romanov Dynasty, is a friendly town with a thriving farmers market looking probably as it did in the '60s. And like most towns, it had a very large statue of Lenin.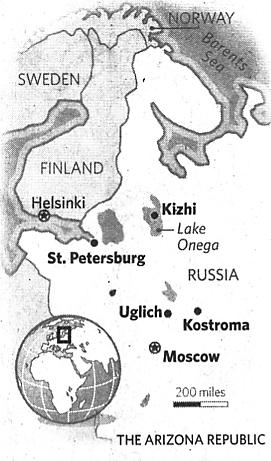 Kizhi is a World Heritage Site of Russian wooden architecture, with structures erected from the 14th through 19th centuries and moved to the island in 1960.

Uglich, previously an Intourist town for vacationing Soviets, touted its locally made Russian watches, which we eagerly purchased (and they still work).

One event will provide a lasting memory of this Russian odyssey. In groups of 10, the entire ship of 150 people went to local homes for "breakfast with a Russian family." Our group was invited to a math teacher's 100-year-old home that she shared with her teenage daughter
and their dog, Dick. In her small dining-room, we were the recipients of the very best, hospitality she could offer. As she talked with us in her limited English, we ate home-made blinis, local cheese and ham and wheat porridge.

And as a long-overdue salute to my Russian professors, I spoke a few sentences to her in my limited Russian, and she understood me. What better way to put to rest lingering Cold War feelings than to share smiles and a meal in someone's home.