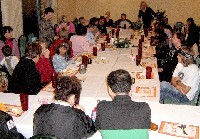 Over 30 attended.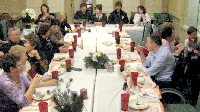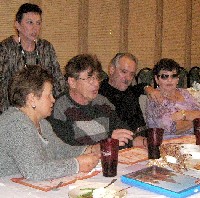 Singing "Moscow Nights".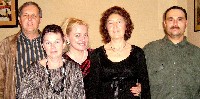 Nominated Board: (L to R) Andrei Conovaloff (marketing), Tatiana Bagmonova (president), Olga Chaikheeva (vice- president, Nataliya Harnouskaya (economist), and Artt Smasch (director). Not shown: German Tchernoivanov (cultural), Irina Khavstedler (secretary). Check ARC website for latest news.

The new formed Arizona Russian Center — ARC — launched it's second New Year with a buffet dinner to recognize volunteers.

More than 30 local Russian- Americans and guests of all ages attended the invitational event held January 13 at the Phoenix restaurant China Super Buffet Crown.

Individuals who contributed to the orgnaization were recognized with gifts of thanks.

People introduced themselves stating their name, where they grew up in the Former Soviet Union, their profession, and how they want to help the organization.

When it was suggested that all sing a dinner song, "Moscow Nights" in Russian was led by Emily.

Nominations were taken for the 2008 board of directors. See photo left. Confirmations pending.

Suggestions for activites were discussed. Hosting a Russian festival has been an ongoing discussion for years. But for the sort-term, attending any of three upcoming performances (below) were proposed, two in Tucson and one in Mesa. It was decided to try to carpool to events in Tucson. Contact the Arizona Russian Center: 602-368-4541 to carpool. Groups rates will be arranged if enough attend.