Valley artist, [and] husband
learn to market [her] talent

An Ahwatukee artist from Kiev who has lived in Tempe and taught in Chandler soon will have a show in Carefree, and all because a Mesa schoolteacher took a tour of the National Museum of Ukrainian Art 18 years ago.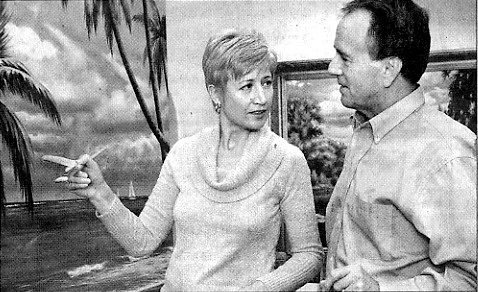 Artist Lecia Oleksadra Owen with husband and manager Tom Owen about her work. Lecia will show her paintings next week at the Carefree Fine Art & Wine Festival.



Middle-school teacher Tom Owen, on vacation in Ukraine 18 years ago, had been charmed by the demeanor of his museum guide and asked her to dinner.

Guide Lecia Oleksandra spoke no English and Tom spoke only English.

"We made signs and drew pictures and somehow communicated over dinner," Owen said.

Tom had to get back to his job, and though the two wrote letters for a while, the missives soon petered out.

"Then, several years later, I got this letter," Tom said. "It was from Lecia, and I wrote back, and, to make it short, I went to Ukraine in 1997 and before long asked her to marry me."

The two settled in Tempe, Tom continued to teach and Lecia taught painting and art-history community-college classes in Chandler.

When Lecia wasn't teaching art, she was at home making it.

"I have learned so much since I came to America," Lecia said. "I have learned not just better technique, but I have learned what people want. I have learned to put more vibrant colors in my work. I have learned how to paint an Arizona sunset so that people say, 'Oh, I believe I saw that very same sunset!' and then buy the painting."

Lecia put some of her work in galleries but wasn't satisfied.

"They take a huge percentage, and you have no idea who buys your work, or why, and you learn nothing," she said. "So I much prefer the art shows we go to. There, I can talk to the people and find what they want and I can grow in my work."

Tom learned that if he mastered frame making, the two could save thousands every year. He also learned how to create and manage a Web site: LeciaOwenFineArt .com/main.html.

Together they learned about marketing.

"We've read books on sales and on marketing and we know where the best shows are and we know not to just go to the same shows," Tom said.

In fact, Tom learned so much, and Lecia's sales continued to grow so much, that Tom retired in May after teaching in Mesa for 29 years. Now, he is her full-time frame maker, Web-site manager, friendly critic and business manager.

Two years ago, the two sold their Tempe home and bought a bigger house in Ahwatukee, with room for a spacious studio for Lecia.

Soon, the couple will head to Florida and spend two months going from one art festival to another. Her paintings are selling for between $750 for small works to $10,000 for works as large as 48 x 60 inches.

"When I show in Colorado or Texas, I have many desert scenes, but I am working on seascapes for Florida," Lecia said. "And in doing them I learn and grow."

Before they go to Florida, Lecia will show her work at the Carefree Fine Art & Wine Festival, Friday through Jan. 20 in downtown Carefree on Wampum Drive, east of Tom Darlington Drive.

Lecia says she has high hopes for all the shows.

"Back in Kiev, someone - the government, a museum - was always telling me what I could paint and I was a starving artist among a lot of starving artists," she said. "In this country, you don't have to be a starving artist. If you work hard and learn and work harder, you can succeed."

---