Paradise Valley Artists League held their 12th annual art show at the PV Community Center on February 2, 2008. They invited their vice-president Elena Thornton (right) to show.

Elena won second place for her watercolor painting "Sleepy Town" (below). Click on image oto enlarge.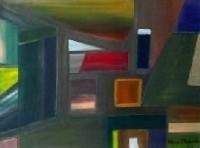 Born in Bendery, Moldova in 1962, Elena earned
bachelors and masters degress in Russian Education at the University at Albany, New York state. She taught at 3 high schools .

12 years ago, she moved to Phoenix, with husband Jim and son Jeremy and started a new career as an artist, poet, and language analyst.

She paints mostly with acrylic and oil on canvas, watercolor on paper and draws with charcoal on paper. She says she is inspired by the work of Pablo Picasso, Mark Rothko, Jackson Pollock, Joan Mitchell, Helen Frankenthaler, Willem de Kooning and Robert Motherwell.

Elena shows her work in local galleries and specail shows, and on the Interent. Her website — Elena's Art — displays 15 examples of her art and 50 poems in hre collection titled 'The Freedom to Journey on'.

In May 2006 her exhibit of watercolors and acrylics, "Images in My Mind", was at The Galleria, 502 E. Monroe St., Phoenix. In January 2008 she had 5 paintings on display at the Willow House Café, 1722 W. Van Buren St., Phoenix.

Last year she taught Russian language at Paradise Valley Community College, and in December her class produced the sellout Russian Cultural Festival.



Art Show and Sale, Feb. 2


The Paradise Valley Artists League is sponsoring their 12th Annual Art Show and Sale at the Paradise Valley Community Center this weekend. Painting demonstrations by various artists from the PVAL will be featured, and selections of their art will be available for purchase.

Parking and admission are free, and refreshments will be served. The show runs Feb. 2, 2008, 10 a.m.- 4p.m. at the community center at 17402 N. 40th St. in Phoenix. Call (602) 495-3785 for more information.

---