By Astrid Galvan — The Arizona Republic — Feb. 21, 2008

Being a barber isn't so much a profession as it is a family tradition for Mark and Rushel Leviyev.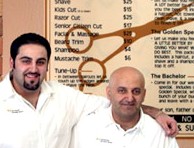 The two Scottsdale barbers last month opened their first barbershop, Gold Scissors Barber Shop, at 13802 N. Scottsdale Road.

Rushel, 44, is 20-year-old Mark's uncle. The two say they have always been close, even before they moved to the U.S.

"We're better than friends. I trust him more than anyone," Mark said.

They lived across the street from each other in Samarkand, one of the larger cities in the central Asian country of Uzbekistan.

As a teenager, Rushel learned how to be a barber from one of his uncles who owned a barbershop. Rushel then taught the skills to his young nephew, Mark.

Eleven years ago, when Mark was 9 years old, he moved with his family to New York. Rushel followed a year later.

Mark and his family relocated to Phoenix in 2004, and Rushel joined them three years later.

The concept of Gold Scissors is of an old-school barbershop, but with some modern-day touches.

Customers watch high-def TVs
For $21, customers get a cut, a wash, a back rub and hot towel over their face while they sit on one of five leather chairs and watch TV on the 23-inch LCD screens - one at each barber station.

Mark and Rushel also specialize in traditional razor shaves — the kind, Mark said, "that you don't have to go to the hospital for to stop the bleeding."

Ramon Aranki, 25, visits Gold Scissors as often as once a week.

"I love it. He makes it pretty relaxed," Aranki said of Mark.

The barbershop serves as many as 20 customers a day, and most are referred by other customers.

Mark does not hide his excitement about his new business, or any of his future plans.

Owner, a man of many talents
Mark is a small business owner, has a real estate license and studies at Paradise Valley Community College in hopes of going to law school. But he does not think he's an overachiever. He just wants to give a good hair cut, he said.

Rushel, too, focuses on good service. He said he loves everything about his job, even if a customer complains, because he always learns from it.

One thing Rushel doesn't like: waiting for customers to show up. "I enjoy customers," he said. "They appreciate me."

For now, word of mouth is bringing people into the barbershop. Mark and Rushel eventually will start advertising, especially online. They hope the business will grow so that by the end of the year, they can staff three additional full-time barbers.

Eventually, they want to open more locations Valleywide.

"For me, this is still not enough," Mark said. "I want more."

---