PV Artists League joins First Friday
by Sadie Jo Smokey, The Arizona Republic Northeast Valley Section, Dec. 2, 2008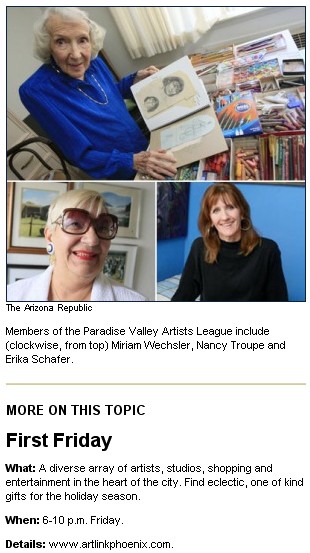 For the members of the Paradise Valley Artists League, art is a way of life. Older than many other first-time artists exhibiting at First Friday hot spots, 20 members of the group will show their work this month in downtown Phoenix. They'll be at reception as part of the First Friday festivities.

The group, which meets monthly at the Paradise Valley Community Center in northeast Phoenix, is a talented bunch, said league president Elena Thornton. Thornton said she suggested the show to the gallery when she realized some members, such as 96-year-old Miriam Wechsler, wouldn't have an opportunity to show their work on their own. Members were delighted to contribute a painting or photograph to a collective exhibit to promote their work, and the league. [Elena Thorton, born in Moldova, also teaches Russian at PVCC where she is hosting the holiday show: Russian's Music: The Continuum, Dec. 15 at 6:30 pm.]

"I wanted to feature as many artists as I could," said Thornton. "I'm just so proud of them."

Last month, the group had a successful art show at the Mesquite Library with nearly 80 pieces of fine art and photography. While the show at the Arizona State University Downtown Center Mercado Galleria is smaller, patrons should still expect dazzling work.

"It's been my life, up and down," said Wechsler. "Mostly good, some bad. I got in trouble in high school for drawing in my notepad instead of writing notes. But people seem to like what I paint."

Artist draws energy from doing arwork

Small cardboard boxes hold dozens of worn, used stumps of pastel and chalk sticks. Drawings, frames and easels line the walls.

In her tiny studio apartment at an assisted living center near Union Hills Road and 40th Street, Miriam Wechsler shares her bed with sketch pads and ink pens. At 96, Wechsler is still a prolific artist. And, for the first time in her life, the member of the Paradise Valley Artists League will participate in a First Friday show.

"It's my way of life," said Wechsler, her petite body curved by age. "I can't live without drawing. It's more nourishing than food. Some days I do art before I eat breakfast."

Wechsler, who has minor age-related complaints about her eyesight, hearing and memory, recently began working with ink. In her teens, she studied art for three years in New York.

"I just drew my heart out," Wechsler said. She married, had a daughter, and later in life, resumed her art. "They probably think I'm a curiosity," Wechsler said. "Most people my age just sit and watch television. But I have to use what energy I have left to paint. I hope to keep going as long as I can."

Muralist's dream is jumbo size

A muralist by trade, Nancy Troupe likes to paint large. Her favorite subject is the African elephant.

"They have huge ears," said Troupe, 55, of north-central Phoenix. "They have different heads. I can paint them from pictures or make them up."

An artist in residence at a charter arts academy in Tolleson, Troupe gives fine-arts instruction to elementary and junior high students. She said she became an artist as soon as she could hold a crayon.

"My art started before I knew how to write my name," Troupe said. "The first part of my career was in oils. I love to do pen and ink, watercolor, I've done bronze sculpture."

Troupe joined the Paradise Valley Artists League four years ago.

"It's small enough to know all the members and large enough to learn from all the members, new and old," Troupe said.

Troupe's medium is acrylic wall paint. She said a dream is to do life-size murals of elephants for a zoo.

Recording her travels

Fine-art photographer Erika Schafer traveled the world with her husband, recording their travels with a Minolta camera before settling down in Phoenix in 1991.

In the bedrooms of their Moon Valley home, she points out different locales, Africa, San Antonio, Bavarian Alps, the Netherlands, Falkland Islands, Alaska, Santa Fe and Egypt.

The only photographer in the Paradise Valley Artists League, Schafer, 72, still shoots standard film, not digital, and sells just one original print of her work.

"Most members are painters, sculptors, wood carvers," Schafer said. "I started photographing when I was 16. It was just a hobby."

Schafer began joining art leagues and societies about 10 years ago. She began exhibiting her work. Another wall in a bedroom displays ribbons for her photography.

A past president of PVAL, Schafer said the group started with a handful of members and now boasts more than 40.

"Originally it was mainly seniors since we meet during the day when younger people are working. But now we have members in their 40s and 50s," she said.
---