Former Russian Club president Erin Traeger awarded Fulbright Scholarship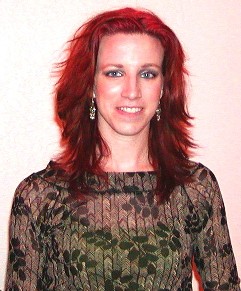 Erin Traeger, the last active GCC Russian Club president, will travel to Macedonia to study whether the reform of the basic tax structure of the country has impacted government revenue.

She is among a record 17 ASU students who won Fulbright Scholarships to study abroad next year, and 15 who will study overseas on National Security Education Program (NSEP) awards. ASU ranks among the top public universities in the country for both Fulbright and NSEP awards.

Erin earned her bachelor's degree at ASU in Russian and mathematics in December 2006.

Also: Meagan King, a senior in Slavic languages and literature, will take intensive Russian and Tatar language instruction in Russia, at Kazan State University.

Sponsored by the U.S. Department of State, the Fulbright Scholarship Program is the largest U.S. international exchange program offering opportunities for students, scholars, and professionals to undertake international graduate study, advanced research, university teaching, and teaching in elementary and secondary schools worldwide. About 1,300 are granted annually.

ASU students' success is due to supportive faculty who involve students in cutting-edge research, increased attention to global studies, the emphasis on foreign language and word-of-mouth among students.

Fulbright students apply for a particular country and find specialists who are willing to work with them on their chosen course of study, receiving full travel, living and academic expenses for an academic year. The NSEP awards provide up to $20,000 for a year's study in countries that are outside Western Europe, Australia and New Zealand.

Reported in: Fulbright Scholars add to ASU's global reach, ASU Insight, May 16, 2007.