A suspect in the slaying of a

Russian

immigrant turned Phoenix police informer has been arrested after more than five years on the lam.

Authorities in Toronto arrested Mikhail Drachev, 24, late Friday in a homicide case that drew headlines because it grew out of a botched heist of nearly $1 million in human growth hormone from a pharmacy on West Bell Road.

A then-student at Arizona State University was one of two men convicted in the murder, but Drachev eluded capture by leaving the area.

"I knew the day would come," Phoenix police Detective Tom Britt said Saturday.


Police say Drachev [photo left] was one of three men who kidnapped and murdered Konstantin Simberg, 21, in December 2001. Britt said Drachev has been living in Toronto under an alias. His undoing began about two weeks ago, when he confessed his real name to a woman he wanted to marry. She ran an Internet search and came up with the America's Most Wanted Web site. At the time, she didn't alert police.

It took a domestic-violence incident for her to tell police about Drachev, officials said. They went to his apartment and arrested him without incident.

Britt was on the phone with Simberg when he was kidnapped. Britt described hearing the sound of a struggle and a scream before the call ended.

A day later, two hunters found Simberg's body in Yavapai County. He had been stabbed, soaked with gasoline, set on fire and buried alive.

Britt believes Simberg was killed over his agreement to testify against Troy Langdon, 29, and Sean Southland, 34, in the September 2001 attempted theft of nearly $1 million in human growth hormone. The pair recruited Simberg for $25,000 to help transfer the goods from a Federal Express truck into a U-Haul with a crew of his choice. But something went wrong and the crew, composed of mostly high school boys, scattered. Simberg was arrested after one of the boys implicated him in the attempted robbery, and that's when he agreed to testify.

Langdon and Southland were tried and sentenced in the robbery.

Christopher Gabriel Andrews, 24, a former ASU student, is serving a life sentence, and Dennis Tsoukanov, 26, is also serving a sentence.

---
Find about 150 more news stories on Google.com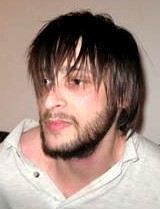 Mikhail Drachev in custody in Canada.


---
Toronto Police Services
—
News
Saturday, April 21, 2007
—
12:38 PM
Fugitive Squad
416-200-4688
Members of the Toronto Police Service Fugitive Squad, 23 Division Major Crime Unit and Canada Border Services Agency have arrested a foreign fugitive wanted for murder and kidnapping.
Officers from 23 Division Major Crime Unit contacted the Fugitive Squad, believing they had identified the location of the suspect after a woman contacted police, believing a man she knew was featured on the America's Most Wanted website.
It is alleged that:
the accused was involved in the murder of 21-year-old Konstantin Simberg in Arizona in 2001,
the victim was a police informant who was doused with an accelerant, stabbed in the back and ultimately died from his injuries,
two other men involved in the attack were captured, but the fugitive left the United States to avoid prosecution and began living in Toronto.
On Friday, April 20, 2007, members of the Toronto Police Fugitive Squad, assisted by the 23 Division Major Crime Unit, entered a Rexdale-area apartment and arrested Mikhail Drachev, 24.
Drachev is currently in the custody of the Canada Border Services Agency.