A Russian production company stopped through Sun City Sept, 3 on its national tour across the United States to get a glimpse at how the world's first-planned retirement community operates. The footage will be used to compile a documentary series on aspects of American culture. ["One-Story High America" (16 parts) starts airing on Russia's Channel One on February 11th, 2008.]

Vladimir Pozner, one of Russia's best-known journalists, and Ivan Urgant, a television commentator, started their journey Aug. 1 in New York City and will drive cross country until the middle of September, according to an e-mail from the Recreation Centers of Sun City [RCSC].

The main idea, the filmmakers say, of their survey is to explore American culture and to answer questions relating to U.S. democracy and patriotism, its educational systems, conservation of traditions and to forecast where the United States will be with such issues years down the road.

"The crew is trying to take a look at the American character and how its changed since 1935," said Helen Thiel, RCSC board secretary, who helped bring the filmmakers to Sun City. "It sounds like they have a very ambitious schedule."

The documentary is based on the novel, "Little Golden America (One Storied America)," a two-month travel across the United States undertaken in 1935 by authors, Ilya Ilf and Eugene Petrov.

After more than 70 years since the two authors surveyed the United States, BFG Media Production Co. and First Russian Television Channel decided to update the world on how American culture has changed since the '1930s by visiting several of the nation's most storied landmarks and its personalities.

While in Sun City, the film crew met with representatives from organizations such as the Sun City PRIDES and the Recreation Centers of Sun City at the Bell Recreation Center, 16820 N. 99th Ave.

The organizations were asked how the concept of building a retirement community was conceived and why the retirement community implemented an age restriction to its residents, said RCSC board member Norm Dickison.

"We tried to let them understand, in our opinion, upholding age restrictions in this community allows us to more freely pursue both our artistic and recreational talents," he said.

Mr. Dickson said the Russian film crew was impressed with the facilities at Bell Center — they bowled and played tennis — where the community and crew met to also discuss volunteering, something which "is not as widespread in Russia."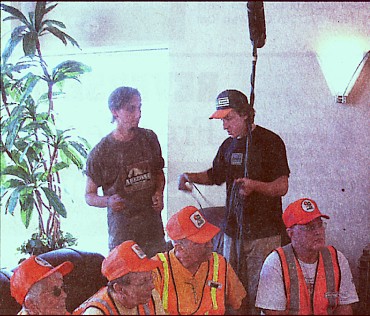 Two members of the Russian documentary crew prepare camera and sound equipment to interview several Sun City residents for a documentary profiling the retirement community.

---
"Americans take care of retired people," said Ms. Thiel, adding she visited Russia twice during the 1980s and "got a pretty good look at their culture." "The crew will be impressed with our (recreation) centers and the lives we lead."

But Mr. Dickson said while the film crew may have come with a preconceived notion of Sun City, he hopes they left with a more positive image.

"What winds up in the cutting room floor, we'll never know," he added.

The crew also plans to visit monuments and memorials that include the Empire State Building and Ellis Island in New York City, the Vietnam War Memorial and Arlington National Cemetery in Washington D.C. and Civil War memorials in Virginia and Georgia, according to the RCSC e-mail.

Plans also call to meet significant people of recent years, including Larry King, Bill Gates, Ted Turner as well as politicians, public activists and scientists, and visit hotspots like Hollywood, Las Vegas and Miami, according to the e-mail.

Besides the Russian film crew, people from China, Japan and the Netherlands have visited Sun City during the past few years to see how the world-renowned retirement community operates.

"This is just further proof that we have a unique community that should be shared (with the rest of the world)," Mr. Dickson said.

---
Sun City Realtor
Niklolai Riasnianski
was invited to meet Posner and his crew
at a dinner party hosted by
RCSC board members. Nikolai is a sponsor of RussianAZ.org