YUMA PROVING GROUND

— A fleet of

former Soviet military vehicles

that are routinely used for target practice and the testing of a new, highly advanced, artillery shell will be featured in an upcoming documentary for a popular cable channel.

The program, titled "Battlefield," is one in a series of 13 episodes currently being filmed for a new show to air on the History Channel called "Bone Yard."

"The show essentially explores what happens at the end of technology," said Douglas Miller, a freelance writer and director for Perpetual Motion Films, the company hired to shoot the episode. "This particular episode is about how the Army tries to stretch, upgrade, and reuse some of its old vehicles and weapons."

Miller, along with photographer Gary Rohan, began filming footage for the show at Yuma Proving Ground on May 16, starting with a fleet of Cold War-era,

Soviet

military vehicles, including a T-72 battle tank.

The fleet, which consists of about 175 vehicles and pieces of artillery, of which 85 are still operable, are owned by the Army's Primary Operation Center.

"A majority of them we bought from the East German government and

Soviet

bloc countries, " said center manager Dan Schoenborn. "Five or six of them are actually Chinese."

Target Maintenance Supervisor Randy Ehrlich said the vehicles, which he oversees, are frequently used as targets in the testing of new weapons systems conducted at Yuma Proving Ground and other bases.

"Weapons designers are designing their weapons to recognize these types of vehicles as targets," said Target Maintenance Supervisor Randy Ehrlich. "The idea is to blow them up. We are the bad guys."

Yuma Proving Ground spokesman Chuck Wullenjohn said most of the vehicles were purchased in the early 1990s, following the collapse of the

Soviet Union

, and brought to the base by train.

"It made them much more available and much less rare," Wullenjohn said. "Before then we didn't have very many."

Although the target vehicles, some of which are filled with blast holes and badly damaged, are stored at the testing ground, they are shipped to bases up and down the West Coast as needed for testing purposes. Schoenborn said he believes his fleet of

Soviet

vehicles is the second largest in the country.

All the vehicles, at least the ones still in working order, are maintained by a group of eight Yuma Proving Ground mechanics and two electricians, who had to overcome a language barrier.

"All the controls were marked in

Russian

," Wullenjohn said. "At one time we had bookshelves filled with translations of

Soviet

technical manuals on the vehicles."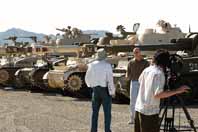 Dan Schoenborn (center), primary operations center manager at Yuma Proving Ground, stands in front of

Soviet

2S3 and 2S1 tanks Tuesday at the U.S. Army test facility located north of Yuma while being interviewed by Douglas Miller (left) as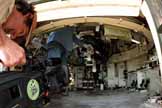 ---

"We had to mark all the control panels in English for safety reasons," Ehrlich said.

While predominantly

Soviet

, the fleet also includes some vehicles used in the first Persian Gulf War, as well as some U.S. vehicles.

"The vehicles from Iraq are used as static targets," Schoenborn said. "The American vehicles we use as vehicle comparisons during the testing."

The pride of the fleet, however, is a fully operational T-80 tank, also bought in the early 1990s from the

Ukrainian

government.

"We actually purchased it straight off the assembly line," Schoenborn said of the tank, which took several years to arrive to the base. "We took the firing pin out so it wouldn't fire. But if we put it back in we could fire it."

The film crew also shot footage of a test firing of a soft recovery round from a M109A6-Paladin, as part of the development of the Excalibur, a global positioning system guided precision strike projectile.

The new artillery shell, which could be on the battlefield within a year, is designed to be shot from a 155 mm Horwitzer gun and to use Global Positioning System technology to lock on to targets once it reaches a specific altitude.

"It enables precision strikes and minimizes collateral damage," said Tony Anderson, a project engineer at the testing ground.

A unique aspect of the artillery shell, Anderson said, is it's being designed to be fired from almost any 155 mm Horwitzer.

"This will make it compatible with most U.S. and NATO weapons systems," Anderson said.

The Excalibur precision strike projectile is about 1 meter (39.5 inches)in length, weighs about 105 pounds and can be fired upward of 20 miles away.

Miller said while his episode is one of the first ones to be filmed, he doesn't know when it will air.