Dancing youth from across the West Valley will tackle a holiday staple next weekend with three performances of The Nutcracker.

Don't expect any "ringer dancers from Russia" to upstage the children, said Kelly Moul, founder and director of the Arizona Youth Ballet & Jazz Ensemble.

The goal is to showcase her students, she said.

"Kids get the opportunity to actually dance instead of sitting backstage for five hours only to run on and off," Moul said, stepping away from a recent rehearsal. "These kids really dance."

More than 60 students will participate in the holiday classic, featuring the music of Pyotr Ilyich Tchaikovsky.

Among them will stand Kayla Lara, an 8-year-old from Surprise, who is playing both a soldier and an angel.

For those unfamiliar with the storyline, Kayla sums it up:

"It's about a girl and a nutcracker and they have a friendship and visit lots of places."

On a personal note, she added that keeping her balance is more important than keeping track of the plot.

Jeremiah Drury, 7, will take on three roles — soldier, party boy and trumpeter.

The Buckeye boy signed on for the challenge in hopes to bulk up.

"I want to be a strong man. Ever since I heard (ballet) makes you strong, I've wanted to do it," Jeremiah said.

Dayna Hummel, an 11-year-old from Glendale, is more excited to flex her theatrical muscle.

"You get to act like you're a little girl at a party that happened about 100 years ago," she said.

The dance company operates out of the second floor of Christ's Community Christian Church in Goodyear, but will move to a new facility under construction on Maricopa County 85 near Eason Avenue in Buckeye.

Proceeds from the performances, which will be held at Buckeye Union High School, will benefit the move.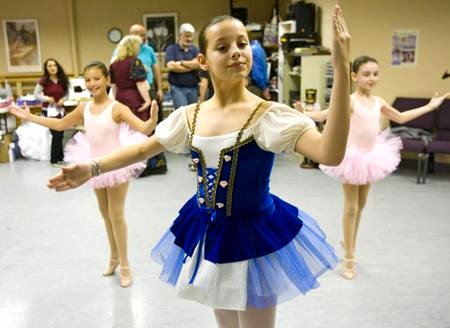 Kammie Duruy, left, 10, of Buckeye, Amanda Roderick , 12, of Avondale, and Bonnie Calvert, 10, of Buckeye, practice at Christ's Community Christian Academy in Goodyear during a rehearsal of the Nutcracker put on by the Arizona Youth Ballet.



'The Nutcracker'





What

: Arizona Youth Ballet & Jazz Ensemble's production.



When

: 7 p.m. Friday; 2 and 7 p.m. next Saturday.



Where:

Buckeye Union High School, 902 Eason Ave.

A

dmission

: $10; $8 for students; $5 for children ages 10 and younger.



Information:

(623) 547-0423.