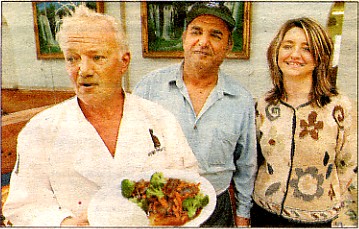 Chefs Helbert Staesche (left) and Alex Shakorova, with Bon Appetit's owner, Oksana Shakarova. Click to enlarge picture.

---

Sometimes, eating isn't about good-tasting food at all.

Vegetarians, vegans and raw-food fans have healthy-living, ethical and environmental principles that trump fleeting gustatory pleasure.

Dieters turn mealtime into a numbers game by focusing on calories, fat grams and net carbs.

And uppermost in the minds of observant Jews is the question, "Has the food been prepared in the manner prescribed by the Bible?"

At Bon Appetit, a new

glatt

kosher restaurant, the answer to the last question is, "Yes." What's surprising is that's also the answer to the question: "Does the food taste good?"

What is glatt kosher? It takes Jewish dietary injunctions - no mixing meat and dairy, no eating shellfish or pork, raising and slaughtering animals according to law -- one step further. Specifically, it involves inspecting the lungs of cattle to make sure there are no adhesions, which may indicate a health problem. (

Glatt

is Yiddish for smooth.)

Although only rabbis can judge (and certify) Bon Appetit's technical merit, scoring artistic achievement is my line. Bon Appetit gets good marks.

It's run by Jewish refugees from Uzbekistan, one of several predominantly Muslim "stans" that became independent nations after the breakup of the Soviet Union. The proprietors briefly ran a west-side restaurant, Tashkent, before setting up shop in a less-than-glamorous retail strip at Glendale Avenue and 12th Street, a few doors down from a kosher market.

You can get "American" food, such as hamburgers, hot dogs, hot wings and onion rings. But almost everyone here -- and the place can get crowded between 6 and 8 p.m. -- comes for the Russian, Central Asian and Middle Eastern dishes.

They sure aren't coming for the atmosphere or efficient service, both of which are non-existent. The small, boxy room, with seating for maybe 25, is a charm-free zone. Dщcor consists of mirrors along opposite walls, but nobody will ever confuse this plain place with the Hall of Mirrors at Versailles. The television above the front door, meanwhile, broadcasts Russian-language shows, providing diversion while you wait for the overworked kitchen to get out your order. Bon Appetit puts the "slow" in "slow food."

Still, once dinner arrives, your teeth instantly unclench. This is hearty, homey stuff, and it's particularly good at warming you up during our brief Valley winter.

That's especially true of the wonderful soups ($4), which could make you look forward to a Russian winter. The best is lagman, a cumin-scented broth richly stocked with beef, noodles, scallions and red pepper. Chicken soup with matzo balls and carrots, beet and cabbage borscht and pelmeni (light, meat-filled dumplings) in a tomato broth aren't far behind. To make a meal of the soups, order lepeshka ($2), a big, ring-shaped loaf, studded with seeds of all sorts.

Uzbekistan is in the heart of the Central Asian charcoal-grilled kebab zone, so it's no surprise that charcoal-grilled kebabs are showcased here. They're juicy and flavorful: lola kebab (ground meat, $3), lamb ($3), beef ($4) and, in a nod to American tastes, sea bass ($5.50). Figure on two per person, with thick pita bread (50 cents) and a maybe a side salad.

These salads have "ethnic" written all over them. There's the Israeli salad ($3), a mix of cucumber, tomato and onion vibrantly seasoned with parsley and lemon; a tart mushroom salad ($4) fleshed out with carrot; and a pickled salad ($4) with cabbage, tomato and pickles that's sour enough to curl your toes.

The three well-crafted Middle Eastern pita sandwiches are filling enough on their own. My favorite was the chicken schnitzel ($6.95), an Israeli staple featuring breaded poultry, lettuce, onion and tomato zipped up with mustard. But you could make a case for both the moist falafel ($4.95) and chicken shawarma ($6.95).

Bon Appetit
WHERE: 1133 E. Glendale Ave., Phoenix.

WHEN:

11 a.m.- 9 p.m. Mondays- Thursdays;
11 a.m.- 3 p.m. Fridays;
7-11 p.m. Saturdays;
noon-9 p.m. Sundays.

DETAILS: (602) 274-9010.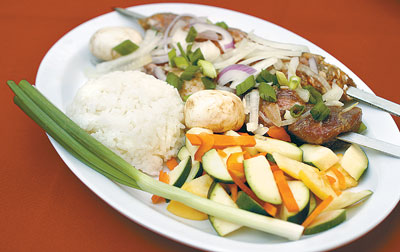 Bon Appetit has four choices of charcoal-grilled kebabs: ground meat, lamb, beef and sea bass.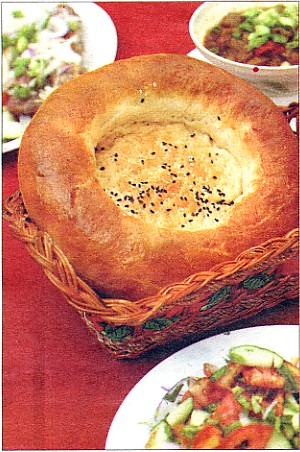 Lepeshakha bread is studded with seeds.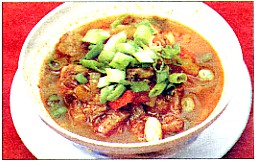 Lagman soup is a cumin-scented broth laden with beef, noodles, scallons and red pepper.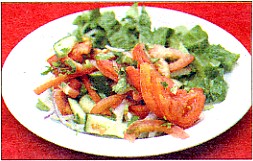 The vibrant Israel salad mixes cucumber, tomato, onion, parsley and lemon.

---

A couple of rice dishes can't quite keep up with the rest of the fare. Pilov ($5.50) brings together mildly seasoned rice, carrots and a bit of beef. Beef Stroganoff ($8) isn't the genuine article - real Stroganoff puts beef in an unkosher sour cream sauce. Both dishes are OK but nothing special.

It's tough juggling the demands of hungry customers and the Almighty Customer at the same time. Give Bon Appetit credit for keeping all the balls in the air.