Murdered teacher's remains are found
Monica Alonzo-Dunsmoor and Brent Whiting
The Arizona Republic -- April. 11, 2004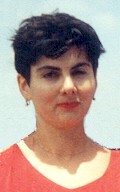 Police solved a painful mystery with which the family of a missing Glendale woman has been living for more than five months.
They found the skeletal remains of Yuliya B. Kumirova, 38, in the desert near Pinnacle Peak Road, just west of Scottsdale Road.
Kumirova - a wife, mother of two sons and a teacher - vanished before her workout on Oct. 31 from the park-ing lot of the LA Fitness workout center in Glendale. The following mor-ning, her husband reported her missing. Her van was found, with a large amount of blood, still parked at the fitness center.
Glendale investigators tied her murder to Thomas J. Wieduwilt, 44, also a member of LA Fitness, after they found him dead in his Glendale home of an apparent pill overdose the day after Kumirova's death.
Police found Kumirova's blood on Wieduwilt and in his truck. A note left by Wieduwilt at his home also linked him to the murder.
Police searched the desert in north Glendale extensively, but it wasn't until Friday night on the other side of the Valley that a Phoenix police officer, patrolling the 6900 block of East Pinnacle Peak Road, noticed a white object in the desert brush, according to Phoenix Detective Tony Morales.
It was Kumirova's skull. Nearby, the rest of the skeleton lay facedown about 300 feet from a roadway.
Laura Fulguinity, a forensic anthropologist familiar with the case of the missing Glendale woman, first made the possible connection. It was John Piakis, a forensic odontologist, who made the identification using dental and skull X-rays.
Glendale police called the Kumirova family early Saturday with word about the discovery.
"It's just a surprise," said Vlad, 16, the older of Kumirova's two children.
He hopes that now, with their mother's body found, the family will be able to reach emotional and legal closure. Kumirova was a teacher at Trevor G. Brown High School in Phoenix. She emigrated with her family from Uzbekistan, a republic in central Asia that was part of the former Soviet Union. She taught math part time at Glendale Community College.
The identification of the body leaves another question that will likely never be answered: Why?
"We have no idea why," said Matt Brown, a Glendale police spokesman. "I don't think we'll ever know why."
Police don't believe there was any connection, beyond the fitness club membership, between Kumirova and Wieduwilt, a computer programmer who worked in Scottsdale.
Mike Sharp, a neighbor, said he didn't know the family, but people along the block had been wondering for months what happened to Kumirova.
He hopes that the discovery will help bring some closure for the family.
"We're glad that this has come to a close, especially for the family," said Morales, a Phoenix police spokesman.
Staff reporter Lindsey Collom contributed to this article.