Katy O'Grady -- Northwest Valley Newspapers --
Daily News-Sun
, Sept. 28, 2004 -- Page 1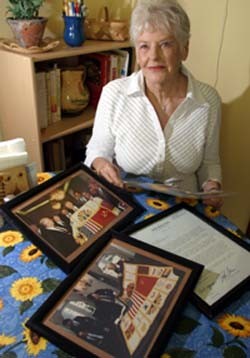 Photo by MOLLIE J. HOPPES



June Stahl of Sun City West made a Peace and Friendship Quilt, which was delivered to then Soviet President Mikhail Gorbachev by Ohio Sen. John Glenn during a visit.
Russia holds a special place in June Stahl's heart.
Somewhere in that country is a friendship quilt the Sun City West resident created in 1990 with the help of church friends. She was living in Ohio at the time, and had been thinking of ways to send Mikhail Gorbachev her wishes for a peaceful end to the Cold War.
"I'm a writer, so I observe a lot of things. I was watching Peter Jennings," she said, describing an image she saw on the television of the Soviet and American flags displayed side by side. "I thought, wouldn't that be a great quilt to send to Gorbachev?"
Her experiences with the Soviet empire during that project have kept Russia among her top interests, even though she's never been to the country. When the news broke of Russian children, parents and teachers held hostage by Chechen rebels early this month, she was drawn once again to the news.
Although Stahl no longer quilts, she's proud of her friendship quilt and wonders where it is in Russia. She said the country has a quilt museum, and she hopes her creation is among the displays. It hasn't been in her possession since she turned it over to former astronaut and Ohio Sen. John Glenn, who promised to bring it to the former U.S.S.R. during a senators' delegation trip there in 1990.
Glenn delivered on his promise, and Stahl has the pictures to prove it: Glenn showing the quilt to former President George H.W. Bush in the White House, and Glenn and the other senators looking it over with Gorbachev at the Kremlin in Moscow.
Stahl received a personal letter from Glenn dated July 20, 1990, in which he said her quilt "was a big hit in Moscow."
Glenn wrote, "I believe President Gorbachev was very impressed. He did not just receive your gift and move on to discuss something else. He talked about it and commented that the making of quilts such as yours is something in which Soviet women also take great pride."
Stahl is particularly proud of the quilt since she didn't have much quilting experience before tackling the project. Her late husband, Charles, helped design the quilt and do the measurements. Along with the American and Soviet flags in the center of the quilt, the outside squares feature such symbols as the Statue of Liberty, the Liberty Bell, outlines of Russia and Ohio, and a pair of shaking hands.
Stahl said the quilt took eight months to complete.
"This is an icon now," she said, pointing to the symbol of the former U.S.S.R. in the right-hand corner of its flag. "There is no hammer and sickle anymore."