Olga Korbut, the Soviet gymnast who vaulted onto the world stage in 1972 with three gold medals and a beaming personality, has been knocked off balance by a legal dispute with a former Scottsdale employer.

Arthur Cooper, 43, manager of Scottsdale Gymnastics, on Wednesday filed a workplace injunction against the Olympic champion in Scottsdale Justice Court that bars her from going to work. He also threatened to have the police arrest her if she went to work teaching an adult fitness class at a Scottsdale dance studio.

Cooper backed down late Thursday afternoon and quashed the injunction, adding that he would not block Korbut from working at the Plumb Performing Arts Center in McDowell Mountain Ranch. advertisement

She intends to teach the class next week, said her husband, Alex Voinich.

Korbut declined comment.

That Korbut had to fight to be able to teach fitness classes for three hours a week illustrates how far the Olympic legend has tumbled. Before coming to Scottsdale two years ago, Korbut paid a fine of $333 in Georgia for shoplifting less than $20 worth of groceries.

Korbut started over when she moved to Scottsdale. Parents of her students here were thrilled.

"She's got a gift," said Maria Swinford, whose four daughters were Korbut's students. "She told me last night, 'They ruined my gymnastics life.' "

Korbut's dispute goes back to late July when she stopped working at Scottsdale Gymnastics, 8439 E. McDonald Drive. The gym has since moved to 9318 N. 95th Way.

Cooper said Korbut was not following the terms of her contract. He told The Arizona Republic that he was trying to prevent her from violating a non-compete clause that barred her from teaching within 10 miles of his studio.

Korbut's attorney, Leon Silver, said that Cooper chose not to renegotiate her contract and barred her from working at the gym.

Silver said Cooper breached the contract by not paying Korbut two months' salary, about $6,000.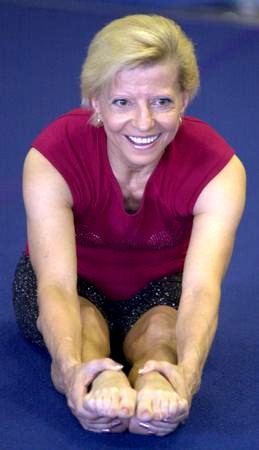 Olga Korbut, 3-time Olympic gold
medalist, stretches out with her students
at Scottsdale Gymnastics in 2002.

---
Several former patrons of Scottsdale Gymnastics say they are angry that they lost Korbut as their children's coach.

"The kids are losing out," said Tony Martin, adding that it is unfair that a true Olympic coach is not being allowed to teach gymnastics.

Dee Ann Cain, said her daughter, Laura, 16, had been working with Korbut six days a week for two years but has quit gymnastics altogether.

"It has been such a nightmare," Cain said.

Swinford, who pulled her daughters out of Scottsdale Gymnastics after Korbut left, said Cooper is bitter and being vindictive in trying to block Korbut from coaching.

In his court filing, Cooper said that Korbut, who he lists as 5 feet tall and 100 pounds, staged a violent disruption outside Scottsdale Gymnastics on July 26 and is "extremely unpredictable and may cause harm."

Silver, Korbut's attorney, questioned why Cooper waited nearly three months to file for the workplace injunction, the day before she took another job, if she was such a threat.

He said Korbut will consider her legal options in response to Cooper's actions to prevent her from working.