Russian Arizona — Русская Аризона
---
10 more volunteer Russian interpreters needed in Phoenix
for international science fair, May 12-17, 2019

The most important day is Wednesday, May 15, for judging.
The Intel International Science and Engineering Fair (Intel ISEF) will be held at the
Phoenix Convention Center May 12-17, 2019. Guests arrive on the weekend and
begin setting up their displays. Judging will be on Wednesday, May 15.

This the fifth ISEF held in Arizona — Phoenix (2016, 2013, 2005), Tucson (1996).
About 1,850 students from 80 countries will attend, including about 46 from the
Former Soviet Union. Very few Russian-speaking interpreters have volunteered,
though Arizona now has more than 10,000 Russian-born immigrants.

Volunteers will get free parking every day they come. On Wednesday meals are provided,
with breakfast at 6:30 am to meet all the guests from Russia, and lunch. Judging ends at
4 pm on Wednesday. Technical language is NOT required.

To sign up for volunteer/interpreter click here:
student.societyforscience.org/volunteer2019
and click on the button: Register for an event
Fill out the form — name, address, phone number, email, birthrate, etc. —
or phone Sharon Snyder <isefvolunteer@societyforscience.org> 202-785-2255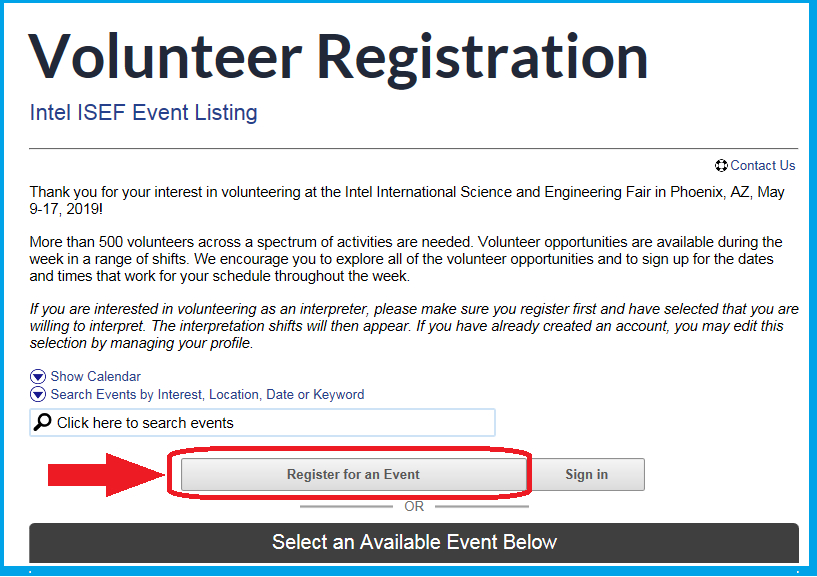 The fair will be open to the public, free on Thursday, May 16 from 9 am to 9 pm.
Program for week, May 12-17. There are lectures and programs for teachers and
students Monday through Wednesday.

This year students compete in 22 different categories (disciplines) of science. See
the entire 2019 program book : Think Beyond : Intel International Science and Engineering
Fair, May 12 – 17, 2019, Phoenix, Arizona, 212 pages.

How many ISEF students came to Phoenix from the Former Soviet Union?
Data is only online from 2011. Expect about 46 this year, average age = 17.


Former (Post) Soviet Union

Phoenix
Los Angeles
Pittsburgh
Phoenix

2013

2016

2017

2018

2019

Baltic States



1
0
0



2
0
0



2
0
0



2
2
0



1
2
0

Central Asia


Kazakhstan
Kyrgyzstan
Tajikistan
Turkmenistan
Uzbekistan



3
0
0
0
0



2
0
0
0
0



2
0
0
0
0



2
0
0
0
0



2
0
0
0
0

Eastern Europe


Belarus
Republic of Moldova
Ukraine



3
3
6



3
2
7



2
3
5



2
2
6



0
2
8

Eurasia



20



21



24



28



23

Transcaucasia


Armenia
Azerbaijan
Georgia Republic




0
3
1



0
3
5



0
4
8



0
4
4



0
5
3

Total

40

45

50

52

46

More
Intel ISEF Science Fair In Phoenix Seeks Volunteers, Judges And Interpreters, KJAZZ News, April 5, 2019


---
Новая Объявления — New Announcements